UserVoice Alternative
for Feedback Communities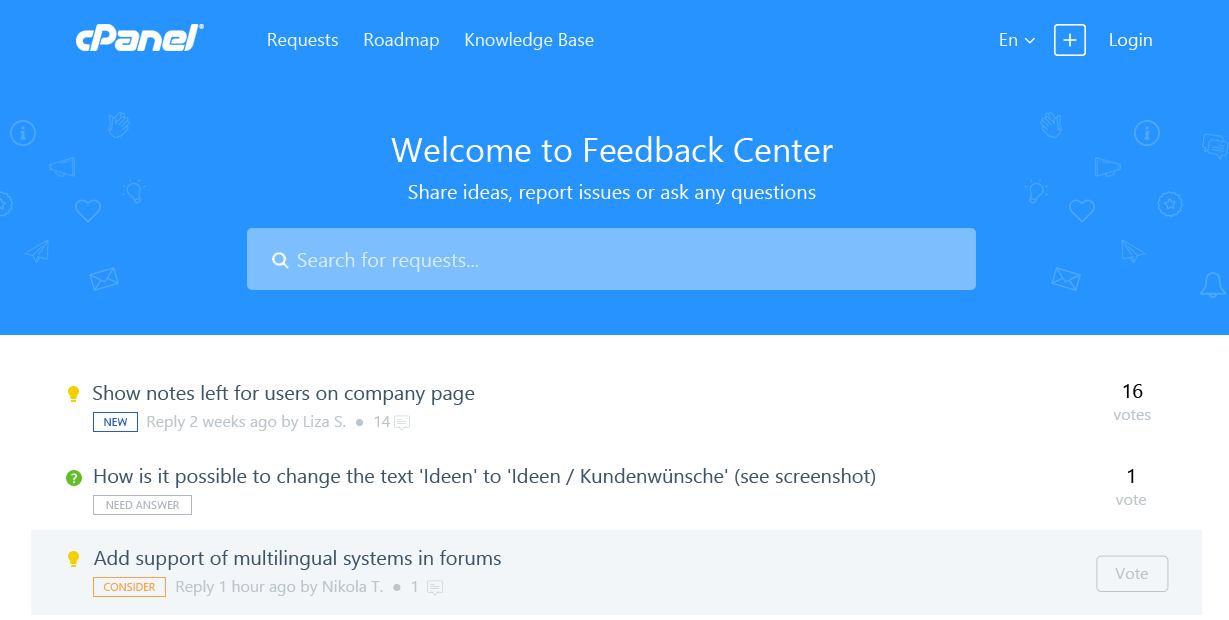 UseResponse is simple, yet powerful & highly customizable alternative to UserVoice that will help you organize transparent feedback loop and get insights for product development
Try Now
14-day free trial. No credit card required
UserVoice Functionality Compared to UseResponse
UseResponse and UserVoice are powerful solutions to track, organize and manage customer feedback and feature requests. Both tools are built for Enterprises with special use cases to manage feedback at scale. The functionality of UseResponse Feedback System is quite broad and customizable, the interface is clean and modern. Some customers even call UseResponse "an affordable UserVoice alternative", while others install it On-Premise to stick up to strict data storage requirements and compliance.
Below you will find the comparison table of the key features that make UseResponse #1 alternative to UserVoice on the market:
Request a Demo
Why Companies Choose UseResponse
Track Feedback from Customers & Team
UserVoice offers you several ways to collect feedback: using web portal for customers, in-app widget, and a sidebar for your customer support team.
UseResponse also allows you to collect feedback using feedback portals, feedback widget, available integrations & REST API.
Manage & Prioritize Feedback
All the incoming feedback ends up in the Admin panel where it can be analyzed, prioritized and managed.
Both UserVoice and UseResponse provide roadmapping functionality – where companies can manage and communicate their requests in a view of Kanban boards. UseResponse also offers an option to publish public product development roadmaps to make the product development process transparent.
Highly Customizable & Flexible
Modern clean interface with full customization options, allows you to organizally fit UseResponse into your company infrastructure. Choose from the default themes or perform complete customization of your portal with CSS/JS.
You can create custom fields for your feedback forms, set up custom statuses and generate custom reports. We empower you with all the necessary instruments to organize the feedback management process the way you need.
UserVoice Pricing Compared to UseResponse
UserVoice is a complex product with a wide range of functionality options targeted at Enterprise segment. Considering custom requirements, to learn the prices you should contact the sales department. Depending on the use case and the requirements, sales representative will calculate the price. Please note, that you'll have to pay extra for such addons as a custom domain, SSO, etc. Also, if you have multiple products and plan to organize feedback boards for each one, you will have to set up separate boards, which also adds a significant cost.
UseResponse offers all Enterprise features starting from $124/month per 2 Agents in case of yearly subscription, and $149 if paid monthly. There are no limits on the number of users, requests, or messages. Plus you can create multiple boards for different product under one account with no extra cost. E.g. you can create public and internal feedback forum for the same cost. The pricing is clear and transparent and the final cost depends on the number of Agents who will manage the incoming requests.
See UseResponse Pricing & calculator.
UserVoice Integrations Compared to UseResponse
Both UseRespone and UserVoice integrate with Project Management, CRM, and other tools you already use.
UseResponse Feedback can be used as a stand-alone solution, or as a part of customer support suite including Help Desk, Live Chat, and a Knowledge Base and be used as Zendesk alternative.
Migrate from UserVoice
If you are currently using UserVoice or another Product Feedback Software, we would be glad to help you migrate your data with no extra fees
Get More with UseResponse
Cloud / On-Premise Packages
Looking for UserVoice On-Premise? UseResponse is available in both Cloud and Self-Hosted plan coming with 100% open-code.
All-in-One Support Suite
Feedback System by UseResponse is a part of customer experience ecosystem along with Live Chat, Help Desk and Knowledge Base tools that empower your Customer Self-Service.
Reasonable Pricing
We have created plans that perfectly fit the needs of B2B Enterprise-Sized Companies with ability to scale and do custom development per request. Setup and training included.
Easy to Try & Configure
Start free 14-day trial where you can configure your Feedback Management system in a couple of minutes. Fully customizable interface and clear setup process. No credit card required.
Highly Customizable
UseResponse provides the core functionality as UserVoice does, plus some features like public roadmaps and feedback type differentiation, and custom fields that are missing in UserVoice.
We Hear Our Customers
Our support team is responsive, fast, and is always happy to help. If you do need a hand to get started, please feel free to contact us. We offer free installation and consultation services.
Best UserVoice Alternatives
When picking up the right software for your company, you should consider various options. For your convenience, we've prepared a compilation of tools similar to UserVoice for you to check.
Zendesk Communities
Zendesk community is a part of Zendesk that is designed to keep all the customer conversations in a single place in order to foster customer engagement and connections. With the help of Zendesk Community you can build a customized branded portal and enhace customer self-service and satisfaction. Zendesk community conversations can also be transfered into tickets.
Canny.io
Canny.io is a community feedback solution for teams to capture, organize and analyze feedback in order to make product development decisions. The upvoting tool, user segmentation tool and MRR impact help to prioritize feedback, build a product roadmap and keep the changelog.
Mopinion
Mopinion is an all-in-one user feedback software that can be used to collect customer feedback on the website, in emails or inside web apps. This tool is designed to measure customer satisfaction at scale with the help of open-ended feedback forms, CSAT, NPS and other metrics and trigger them based on certain conditions. The information received is visualized in customizable dashboards with the use of text analysis and smart labeling.
Upvoty
Upvoty is user feedback community tool with feature voting, product roadmap and changelog. Upvoty allows to create feedback portal and boards where users can submit feature requests and vote on other feedback. Upvoty includes all the basic functionality of feature upvoting tool, but lacks the automation options that are often required by large companies.
Qualtrics
Qualtrics is enterprise feedback management (EFM) software that helps companies to better understand their customers and improve the customer journey. By ingesting data from Facebook, Twitter, Instagram, SMS, Email, WeChat, forums, blogs, and messaging apps, Qualtrics implements text analytics engine. Data collected from various sources so that feedback is collected in one single place. Clarabridge uses AI-powered semantic analysis to analyze and identify different kinds of customer feedback (such as requests, praise, churn, and others).
Aha! Ideas
Aha.io is roadmapping and product development software, and Aha! Ideas tool is resigned to crowdsource and manage ideas. It allows development teams to captire, prioritize and plan the development of feature requests with the help of in-app feedback widget. To share plans and product announcements with the public, you should use Aha! Roadmaps tool.
"I tested a number of popular/leading competing services and found UseResponse to be the most comprehensive alternative especially to UserVoice with easy UI and the right price. UseResponse has been the selected product for our self-serve support forum concept. They delivered great quality & service, and not to mention the great agility. "
Give UseResponse a Try
And compare the feature of UserVoice and UseResponse in action during the free 14-day trial.