Best Canny Alternative
you can find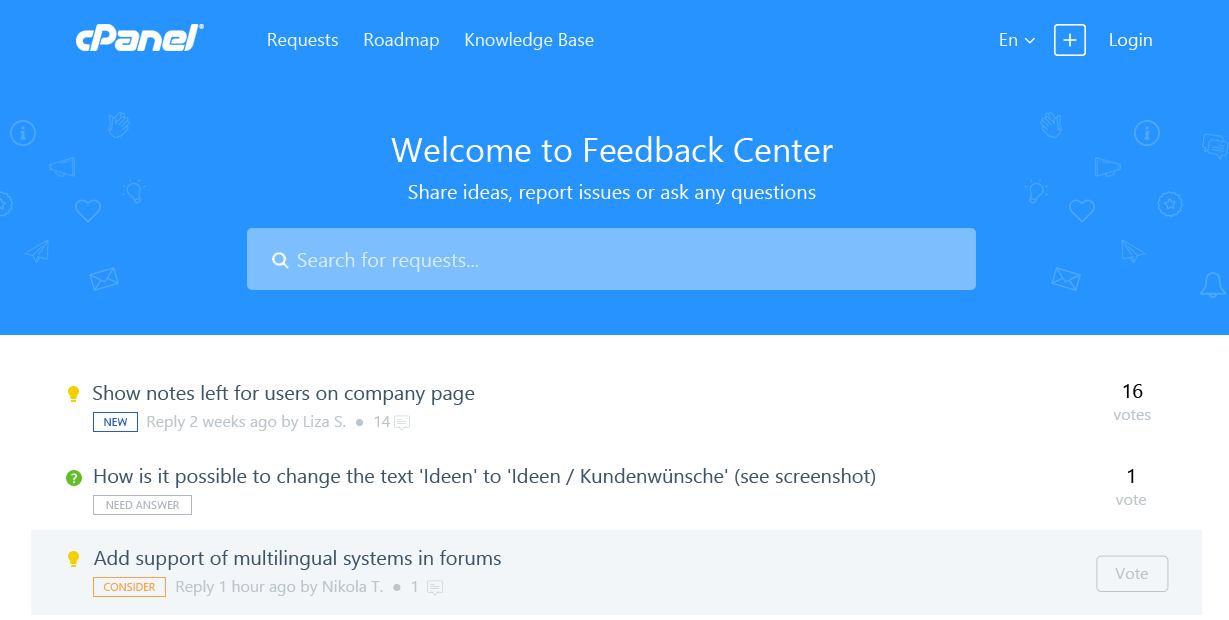 Looking for a functional and customizable alternative to Canny.io to manage customer feedback? UseResponse is a feature-rich feedback tool designed for better product development based on customer insights.
Try Now
14-day free trial. No credit card required
UseResponse vs Canny Functionality Compared
The main purpose of Canny and UseResponse is to provide a convenient instrument to collect, organize and manage customer feedback to make better, informed product development decisions. With the help of such customer feedback tools companies manage to make the product development process transparent, analyze customer requests, and save numerous development hours working on the things that will not be of demand.
Canny.io is a pretty new and easy to use tool, and compared in functionality, UseResponse has far more features and customization in place. It may seem a bit complicated at first, but the detailed documentation and the support team is always here to help you set up the system according to your use case.
Below you will find some functionality comparison that makes UseResponse top Canny.io alternative on the market at a reasonable price:
Canny Pricing Compared to UseResponse
While pricing at Canny starts from $50, the Starter package includes only basic list of features (boards, status updates, SSO, reports, etc.) plus some integrations.
The cost depends on the number of tracked users, where "tracked user" is anyone who posts, comments or votes on feedback. If you need more advanced features for better team collaboration, need a private board, or have more than 100 tracked users, you will need a Growth package starting from $200/month.
UseResponse offers a single plan including all Enterprise features from $124/month. The pricing depends on the number of Agents, who manage the customer feedback and includes unlimited number of users and requests. The initial price covers 2 Agents, and the final cost can be calculated using the pricing calculator.
Canny.io is a cloud-based solution, while UseResponse can be used both as Cloud and On-Premise feedback software.
Check out UseResponse Pricing Calculator.
Feedback Collection
Canny and UseResponse feedback management tools allow creating feedback boards where customers can suggest new ideas or feature requests, ask questions,and report bugs. UseResponse allows default optional categorization of these requests by Ideas, Questions, and Problems while Canny doesn't categorize the posts by default.
Besides product boards UseResponse also allows feedback collection from multiple sources: email, feedback widgets, in-app feedback, app reviews, and integrations with other popular tools.
Full Customization
UseResponse is highly customizable feedback software. With UseResponse, you can customize basically everything: from custom statuses, custom feedback form, custom reports, the feel and layout of your feedback boards, and even change any wording.
With Canny.io you will be fixed to their own styling and default settings. With great flexibililty options UseResponse can be customized and set up to meet practically any business use case.
Workflow Management
In UseResponse you can use instruments for effective teamwork, such as tasks, internal notes, agent collision, smart distribution and others.
Create custom statuses to match your workflow, and run custom reports according to your needs.
Share your product development roadmap with customers to give more transparency to the development process. Or use Internal Kanban boards help to communicate and manage the development process in a visual way.
Modern Clean Interface
Choose from the default themes or perform complete customization of your portal with CSS/JS.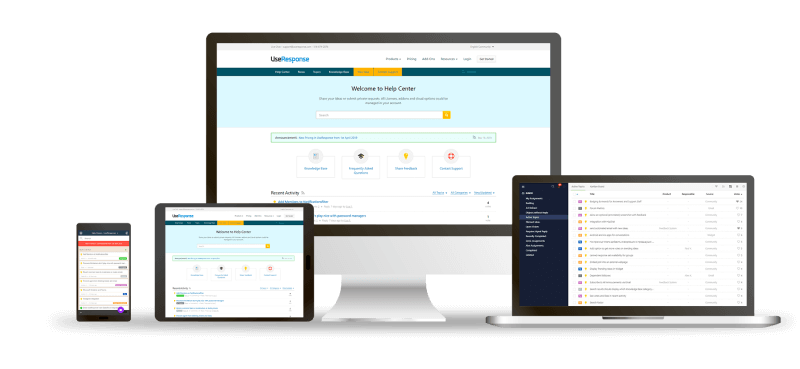 Import Your Data
If you are currently using Canny, or another Product Feedback Software, we would be glad to help you migrate with no extra fee. With UseResponse you will get the best of Canny and UserVoice at a more competitive price.
Get More with Powerful Canny Alternative
UseResponse feature set is much more extensive than feature set of Canny. Reasonable pricing and broad customization options makes UseResponse the best Canny.io alternative on the market.
Customization Control
UseResponse provides core functionality as Canny does, plus advanced tools for better feedback and workflow management, as well as more flexible customization settings.
Self-Service Forum
UseResponse Feedback can be used as a stand-alone tool or a part of customer service system along with Live Chat, Help Desk and Knowledge Base tools that empower your Customer Self-Service.
Reasonable Pricing
Affordable and sensible pricing with great value for money. Rich feature set with flexible customization with prices starting from $124/2 agents/month with unlimited number of users.
Easy to Try & Setup
Start free 14-day trial where you can configure your Feedback Management system in a couple of minutes. No credit card required.
Integrations
UseResponse integrates well with the tools you already use such as Jira, Salesforce, Hubspot, Azure DevOps, Confluence, Slack, Zapier and others.
Cloud/On-Premise
UseResponse is available in cloud and self-hosted packages which might be an option for companies with strict data storage requirements.
"UseResponse is a real solid product. You can customize the look and feel, integration with other applications, and authenticate via SAML. We needed an easy way to track users desires and UseResponse squarely addresses those needs. "
Ready to try UseResponse as Alternative to Canny?
Book
online demo
to learn more or check all the enterprise-plan features in action during a free 14-day trial.