Best Upvoty Alternative
to manage customer feedback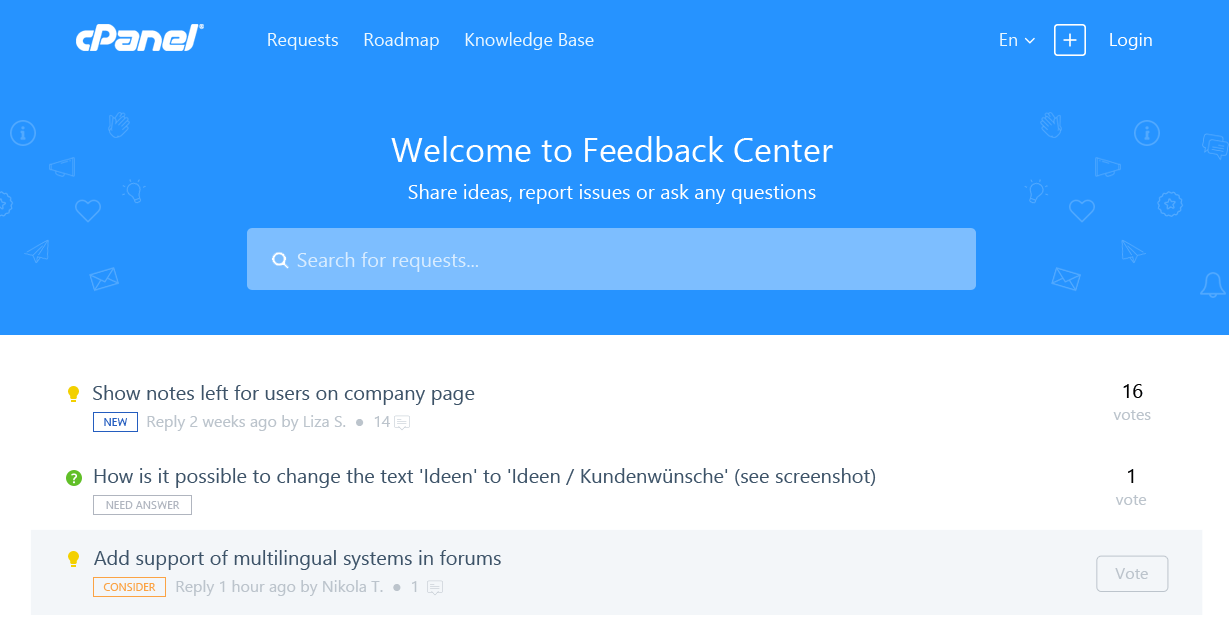 UseResponse is a great alternative to Upvoty feedback tool with great features set, modern interface, and powerful automation options to help you organize a better feedback portal and improve product development.
Try Now
14-day free trial. No credit card required
UseResponse vs Upvoty Functionality Compared
Upvoty provides a quick and easy-to-use feedback management solution to collect customer feedback using votable feedback boards. Upvoty offers various core features such as Voting, Product Roadmap, Changelog, Widget, Custom domain and other.
UseResponse is a powerful customer feedback tool that is highly customizable and is mostly used in enterprise segment. It allows creating multiple public or private feedback boards to collect and manage customer and internal feedback.
Rich feature set, Cloud & On-Premise installation options make UseResponse the best Upvoty alternative on the market, especially if you are looking for On-Premise Upvoty alternative:
Manage Customer Feedback
With the help of UseResponse you can create online feedback portals where customers can suggest new ideas or feature requests, ask questions, and report bugs. With the help of such customer feedback tools companies can improve the communication with their customers and enable customer self-service.
UseResponse is focused on feedback management, with all the necessary instruments in place. With UseResponse you can use feedback widget, in-app widget, API and various integrations to collect and store feedback in a single place.
Enhance Customer Support
Build customer feedback communities to scale your customer support, enable peer-to-peer collaboration, collect feature requests and bugs, promote self-service and create transparent product development process.In UseResponse you can use instruments for effective teamwork, such as tasks, internal notes, agent collision function, smart distribution and others.
Make your support more effective by categorizing the incoming feedback, and using automation tools to send auto-replies and apply the feedback to a specific manager.
You can also create canned replies, custom statuses to match your workflows, and run custom reports according to your requirements.
Improve Product Development
Save the development hours working on the things your customers will never use but understand the actual needs and the pain points of your audience. With the help of customer feedback communities you invite your customers to share their ideas and feature requests, and accordingly, receive the helpful insights.
You can also use Kanban boards help to communicate and manage the development process in a visual way or share the Product Development Roadmaps with public or use them internally.
Use Smart Notifications to update everyone involved, and keep the feedback loop transparent.
Modern Clean Interface
Choose from the defaul themes or perform complete customization of your portal with CSS/JS.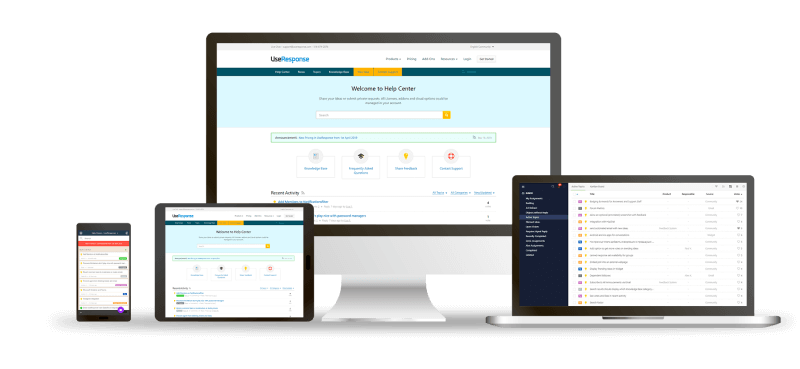 Import Your Data
If you were using Upvoty, or another Community Feedback Software, we would be glad to help you migrate the data with no extra fee.
"UseReponse comes with a lot of features out of the box. The main reason we adopted UseResponse was to "crowdsource" our development roadmap. By using UR, our users can tell us what they want in our products, and based on the number of votes, we can determine priorities. Additionally, there are many great add-ons and integrations available. "
Ready to try UseResponse as Upvoty Alternative?
Check all the Enterprise features in action during the free 14-day trial or
book online demo
if you want to learn more.