Track Customer Feature Requests in a Professional Way
Feature Upvote Tool to collect, prioritize and manage product feature requests and get actionable customer-centric insights for product development
Centralized Place for Feature Request Management
Keep all the incoming requests in one organized hub and segment them into categories for better management. Default categories are Ideas, Problems and Questions, that can be edited and customized according to your flows.
Customizable dashboard
provides a clear vision of the most requested features and enables to make informed product development decisions.
Feedback via widget
Feedback from community
Feedback from Social Media
Manage App Ratings & Reviews
API and Integrations
Increased Customer Engagement
Create easy-to-use community platform for your customers to leave you feedback and feature requests, upvote features, track the progress and collaborate with each other. Let your Agents add requests on behalf of customers, grab feedback from other tools you use, and keep all the requests organized by user or a company.
Let your users and team provide feedback with specialized feature upvote tool:
Let users upvote existing feature requests;
Comment and ask for more detail and information in context;
Automatically update users involved as the status of the feature request is changed.
Keep Customers in The Loop
Use smart feature request upvoting and gamification system to award active participants and top contributors, and make the process of request management enjoyable and fun.
Easily reach out to the customers with similar requests to enable discussions, and close the loop with everyone involved with automated updates. By updating the request statuses to "Under Consideration", "Gathering Votes", "In Progress" and others you show your customers that the progress is actually being made and your company really has a customer centric approach. You can also diplomatically notify the customers if you don't plan to take the request into development.
With UseResponse feature request software every request is taken into consideration.
Transparent Product Development
By collecting and prioritising feature requests from your customers automatically you can base your product development decisions on the most valuable customer feedback and get actionable insights.
Share your public product development roadmap with customers to create a visual summary of what feature requests have been implemented, under consideration, planned and what you are currently working on. Kanban boards help to communicate the development process and feature requests management in a visual way.
Feature request community, reward system, public product development roadmap, notifications on updated statuses and CSAT surveys make the product development process transparent and make customers feel like valuable product influencers.
Organized Feature Request Tracking
Feature Requests
Keep track of new feature requests to avoid duplicates and enable discussions to make the best possible product development decisions.

Q&A Forum
Organically build customer self-service platform by capturing public questions from your customers and enable peer-to-peer collaboration.

Issue Tracking
Allow users flag issues and blockers they consider worth mentioning and find out how many customers are facing the same issues.
Key Features of UseResponse Feature Request Tracker
Feature Tracking Communities
Feedback Widget
Custom Request Statuses
Feature Upvote Tool
Moderation
Conditional Fields
Multiple Boards
Branding & Customization
Public & Private Communities
Anonymous Votes
Tags & Categories
Date Estimates
Single Sign-on
Alerts, Limits & Closed Voting
App Reviews Management
Notifications
Best Answers
Internal notes
Gamification
Triggers and Auto Replies
Polls and Announcements
Analytics & Reports
Intergations
Restful API
See How You Can Manage Feature Requests
Get in touch with our consultant to see how our Feature Request Tracker can be helpful in your particular use case
Available On All Devices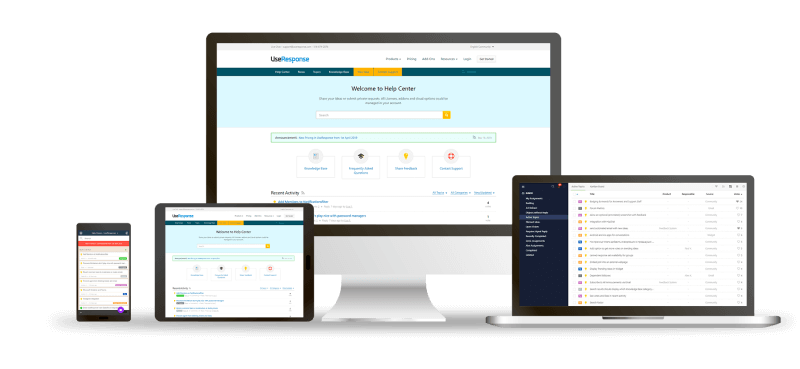 What Our Customers Say
"We are using the feedback software of UseResponse to create a platform for our customers to give direct feedback. We didn´t have something like this in our company before and we are very happy that we´ve found such a great tool and partner to work with. The software is highly customizable without leaving the standard."
Start Saving Time Collecting & Organizing Feedback
with Feature Requests Tracker
Sign up for a free trial account to see all the features of UseResponse Feedback in action or book online 1-in-1 demo