There are dozens of Feedback Management Tools on the market today and it's really hard to decide which kind of feedback software will work best for your company. In this article, we'll give you a better understanding of what kind of Feedback Software will be a better fit.
Types of Feedback Software
While some tools help you to improve the internal processes such as product development, others focus more on providing insights on the customer journey.
1. Rating-Based
If you just plan to acquire an overall impression about your products or services you can use a rating score (e.g. NPS) feedback widget. There are lots of solutions providing such a service: Zendesk, Delighted and SurveyMonkey are some of them.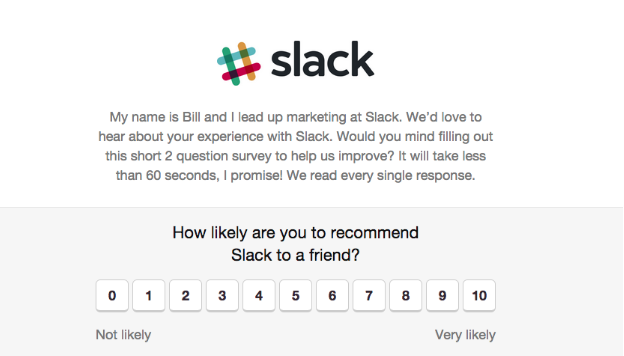 Optimal company size: Small.
Reason: Basic level of insights is acquired as a result.

2.Customized Questions
If you want to have more detailed insights you can use service like Qualaroo, which gives you extra flexibility in feedback acquiring. As an example, on their homepage, they configured feedback widget to acquire the role of the person visiting the page.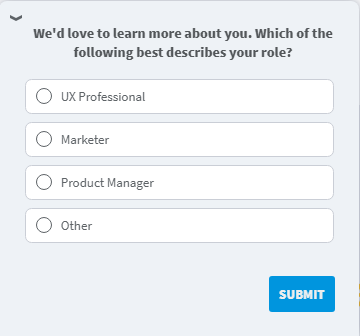 Optimal company size: Medium.
Reason: Require a moderate amount of time and efforts to configure and analyze the acquired feedback. The result is an advanced level of insights.

3. Open Type
If you don't want to limit your customers to leave an only rating or specific answer feedback you can use open feedback software to acquire any kind of feedback your users consider useful. A great example is feedback widget provided by UseResponse.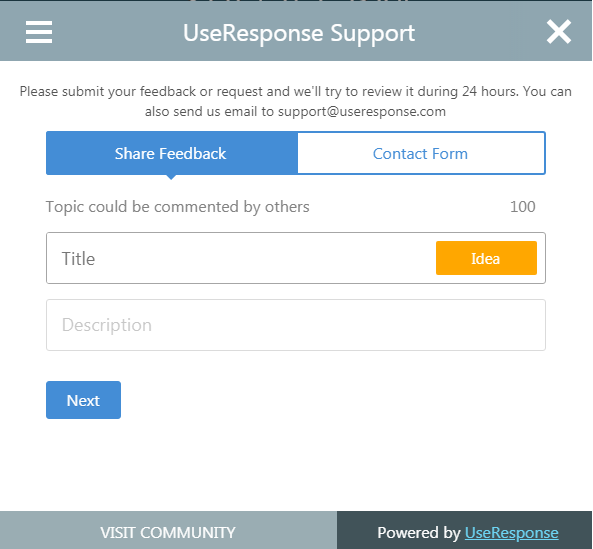 Optimal company size: Large, Medium.
Reason: Requires a lot of time and efforts to configure and analyze such a kind of feedback. The maximum level of insights is acquired as a result.
Why precisely Large and Medium?

Feedback software like UseResponse includes community portals that can ease the process of analyzing the incoming feedback. Other users within this community portal help you with analyzing and highlighting the most vital feedback. On the other hand, small companies do not have big communities to help them effectively with feedback analysis.
Important note: Also take into consideration that in many cases idea management software has a combination of feedback types you can collect. E.g. ideas, problems, questions, thanks.
Pricing Models
Small Businesses or StartUps
If your team is small or you do not have enough funds – take software that has a free plan available. IN most cases, such options include limited functionality and no more than 1 support agent. However, they will be fine for a basic feedback collection to start with.
Medium Business
The most optimal option will be software that has a per agent pricing model. In that option, you are only paying for as many agents as required.
Large Business
Take software that has pricing per installation. The total price is really high, however, in most cases, the installation includes a decent amount of agents and as a result, the price/agent is not as high as it could be seen in comparison with full price.

Installation Types
Based on strong sides of each installation type you can choose what option is better for you:

SaaS:
An option to deliver software that is accessed online via subscription (monthly or yearly).
Advantages:
Easy to start;
Less expensive;
Easy to scale.
Self-Hosted:

An option to deliver software that is bought and installed on individual servers (could be a one-time payment or recurring payments).
Advantages:
Advanced customization;
Maximum control and security;
All the data stores at your servers.
While SaaS is used by companies of any size, self-hosted is mostly used for enterprise companies or companies that have specific requirements like:
Advanced customization;
Strict data storage requirements;
Harsh security rules;
And etc.
Our company provides SaaS as well as Self – Hosted installation types.
In the table below you will find a guide to which feedback type, pricing model and installation type is the most suitable for your use case.
| | | | | |
| --- | --- | --- | --- | --- |
| The type of your company | Best-fit feedback type | Best pricing model | Installation Type | Vendor Example |
| Small | Rating Based | Free | SaaS | Surveymonkey |
| Medium | Open Type | Per agent | SaaS | Qualaroo |
| Large | Open Type | Per installation | SaaS, Self-hosted | UseResponse |
| Company with specific requirements | Based on the company size | Custom | Self-hosted | UseResponse |
Other Things To Consider
One last thing we want you to draw attention to is the integration options of software you choose. For sure you have a software stack you use daily within your company. Integration between idea management software and your tools can save you lots of time and boost your casual workflow.
| | | |
| --- | --- | --- |
| Integration type | Pros | Cons |
| Ready-made | No extra work required | Limited number of integration, limited functional |
| API | Unlimited integration possibilities | Requires programming skills, requires a decent amount of time to configure |
| Data import & export | Easy in use, no extra knowledge required | Very limited in functionality requires regular manual work |
So if you are interested in a particular type of integration you should check out whether a software vendor provides it or not.
Important note: the majority of idea management software providers offer ready-made integrations as a part of the more pricey plan and this could increase the price for your license.

Conclusion
When picking up the right Idea Management Software for your business, take into consideration different types of feedback, pricing models, installation types, ability to upgrade, as well as integration options provided by different software vendors.
Make up a list of objectives you are trying to achieve with the help of Idea Management software, decide if you need SaaS or Self-Hosted version, compare the features offered as well as pricing models.
Also contact the support of the software providers to see how responsive they are, and find out if there any extra fees charged for the installation and guiding over the system.
After this, all you need to do is to create a couple of trials or take some demo sessions on how the software works from inside, and pick up the solution that works for you best.
If you still have questions or need any advice, please feel free to contact us.