It's been happening: brands' monologues are successfully replaced with dialogues. The customer experience is no longer just a come & go approach: believe it or not, customers want to build some bonds with brands, having real influence and involvement.
There are a few effective ways of engaging a potential client or user, and among them is building an online community forum. Apart from building interaction, it can also play the role of a feedback hub and serve as a helpdesk software for your support team.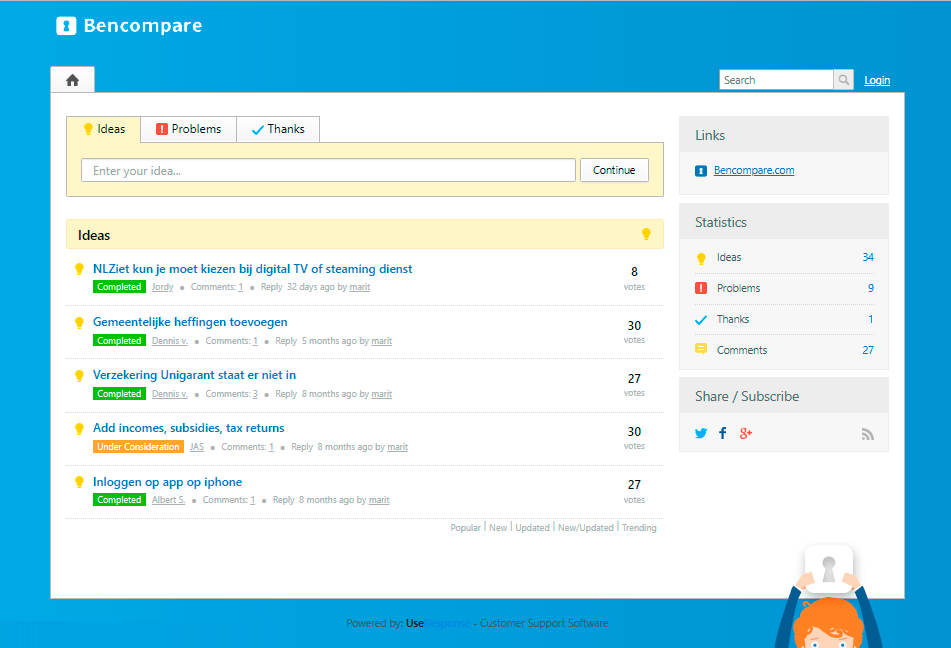 If you're thinking about implementing a community forum in your organization – our article is for you. As long as it may sound difficult, with our explanation and a set of good practices it will become a no-brainer and you'll be good to go!

Why use a community forum?
Feedback community forum is often considered to be a part of a self-service platform where clients or users can engage with your team members as well as with each other thanks to publishing a widely understood feedback in a form of questions, requests or suggestions.
Customers can ask questions to get answers directly or search for older topics to find similar questions or use cases.


Below, you can get familiar with more advantages of implementing community forums in your company.
1. Valuable feedback in NO time
Finding out some bottlenecks related to your product is easier and takes less time if the community is involved. Forums can help your brand get more feedback from customers to make your products and services work wonders – simple as that.

Receiving feedback and identifying areas of improvement is is far from being the only function of a feedback community. Feedback software also helps to shoulder the burden of work on the support department by collecting requests from various sources in one place and allowing customers to use self-service. Furthermore, certain actions in processing feedback can be automated to facilitate the support process.

2. Help within the community
Customer feedback portals are perfect supplements for classic, obsolete helpdesk software, but not only. Engaged community members can help each other solve problems related to your services or products, unconsciously supporting your customer service team.

This involvement can impact on reducing the number of requests to solve, support or fix, while your team makes a roadmap of users' ideas to reconsider or implement.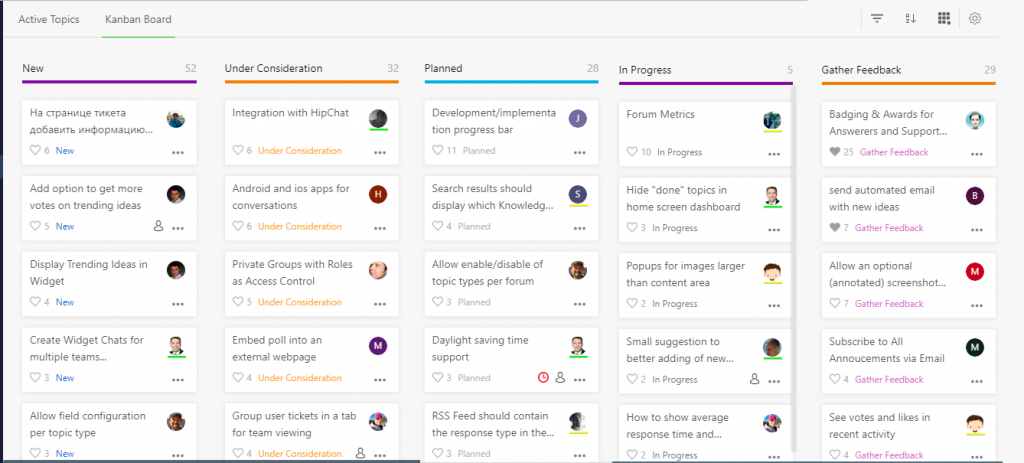 3. Customers' loyalty & trust
Building customers' trust loyalty and trust is not a one-shot activity, but a process that needs to be analyzed and optimized all the time. With constant engagement and collaboration with your community members, you can win their hearts and turn them into steadfast Brand Advocates you will build some long-term relations with. If you want to do it (and we guess you really do), be responsive, helpful and engaged in your community's activity and development. Need to know more on this? Check some paragraphs below.
4. Another way of promotion
Not many marketers regard community feedback platforms as an additional advertising channel and therefore, they don't want to invest their time and efforts into it. If you're one of them – you've never been so wrong.
Forums are public and can be found in search results, so potential clients or new users can easily land on your website through them. For many of those customers, it can be a very first touchpoint with your brand, so engaged community and a responsive team can raise their brand awareness' and in the end impact on joining the club as your new client.
This can be regarded as a side effect of the main purposes of setting your forum, however, it can drive you additional traffic and leads with very little investment.
How to enhance customer experience with feedback forums?
There are several factors to take into account whilst creating a forum for customers. Below, you'll find some good practices based on our experience.
Don't overdo it.
Especially in the beginning, you can be tempted to add as many features as possible to your forums. Adding too many options can result in a lack of stability, biased functionality, and worse user experience. Instead of making it overwhelming, make it convenient, user-friendly and functional.

Listen to your clients' feedback, bring the changes carefully and gradually, and always track the reaction to the changes.

Be REALLY responsive.
Where there's a question, there's an answer. Always.

Sometimes community members can do the job for you and reply with the solution themselves, but it can't cause you to have any moderators or admins to follow the discussion. They should always be ready to answer requests and get involved in threads needing their attention (for example to correct others' contribution). Even if the request cannot be solved right away, the client should be notified that his request has been processed.
Take care of the activity.
Even the most beautifully configured community forum means nothing if it is not active. Engaged users keep the forum going, so you shouldn't ignore any sign of involvement. Promote the forum anywhere the context is right: the brand's social media channels or newsletters seem to be a perfect spot for it. At the first stage add a couple of topics on your own, initiate the discussions.
Identify and reward brand advocates.
Each community has some rockstars – yours can have some as well. Brand advocates have a high impact on other users' decisions or purchases', so be rest assured that you have some established relations with brand influencers. It's considered good manners to offer them some additional benefits in order to appreciate their work on brand ambassadorship, like early access to new features or new releases, discount on their renewal rate or some free modules.

Should I go for a community forum?
Community feedback platforms can skyrocket your team's performance and positively influence brand recognition. With engaged and constantly developing community, you can reach for the stars with feedback and support issues within' the same platform.
So, the answer is very likely to be "yes".
While feedback community forum does not equate to a regular community forum, when tailored well, feedback community platform can be amazingly effective at creating, expanding, guiding, and scaling a product development strategy.
The major problem with feedback community platform selection is that the process is characterized by a wide range of offerings, and we would like to offer you a specialized Feedback Community Software – UseResponse, especially built for you to collect, organize and implement your customer's ideas wisely.
There are at least four reasons why it's a solution to go with:
1. UseResponse is convenient as well as easy to set-up and use both for you and for community members. It gives you the ability to install self-hosted version or use it as a SaaS – and it requires less than 15 minutes to be configured. This means no hassle while implementing or involving very first users into discussions.
2. Another reason is that UseResponse is fully customizable, so you can design it tailor-made to your preferences.
3. It makes your customers happy, more dedicated and more willing to come back and have further interaction with your brand.
4. It offers you a free 14-day trial to give it a try. Will you?