Customer service has aptly grown to become the face of every organization. Today, the customer service experience is the number one factor that differentiates brands from each other. So there is no shock when 95% of the 5000 survey respondents in the new 2018 Global State of Customer Service report said that customer service is crucial for their choice of and loyalty to the said brand. The survey concluded that 61% of customers had changed brands due to the ill experience with the customer service.

Thus, the marketing strategy of the 21st century would be "customer is the king". Customers want everything, and their demands need to be fulfilled in order to create a successful brand. And multichannel customer service plays hand in hand with this.
Importance of multichannel communications in customer service
To understand the never-ending demands of customers, factors like what motivates them and to be present when a customer requires help, companies need multichannel communication efforts from customer service teams.
What is the difference between multichannel and omnichannel communications?
Customers want personalized, relevant attention in addition to all-time availability right at their fingertips.
Multichannel communications is a way of using all available technological input to make sure your customer is presented with the right information. It is the ability to react to the available data across multiple channels.
Basically speaking, omnichannel is multichannel organized in a centralized, and consistent way.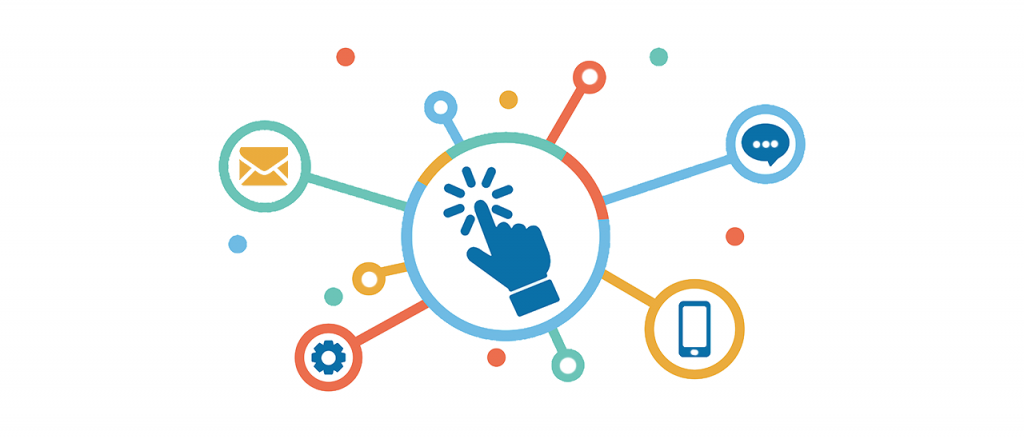 During omnichannel communications, all communication channels are connected and integrated with each other. For example, a client can start a conversation over the chat and continue by creating a ticket. In this case Support agent can see all the interactions, and the client can seamlessly switch across the channels.
Primary Channels
Usually, customers expect customer support on all of the following primary channels:
1. Email
Even though there have been numerous other ways introduced to offer customer support, email still remains one of the most popular digital channels to this day.
2. Online chat
This feature is relatively new but well established. All types of customers love it for speedy efficiency and convenience. Almost every significant website now has real-time chat options as a part of their overall package.
3. Social media
Almost every major social media platform now has its dedicated chat application. Platforms like Facebook Messenger, Instagram DMs, and specialized chat apps like Whatsapp and WeChat are now some of the most popular communication channels. Customers like the quick and easy fix that social media messaging offers. Instant messaging already makes up half of the mobile devices usage. So it is a great tactic to connect with your customers through the medium they already use the most and feel the most comfortable using.
4. Online self-service
Providing online self-service can be a pricey alternative to all other support channels. However, it can be the make or break for the customer as excellent online service support will deflect the customer from all other channels.
5. Phone
The phone is like the last resort for customer support but one that is essential for precisely that reason. When all else fails, the customer will have no choice but to call-in and ask. However, it is still a preferred source within specific older demographics as compared to the young ones. 59% of Millennials say they would instead go through other channels or opt for self-service before they make a call for assistance.

How omnichannel communications can improve your customer service
With technology playing its role in every aspect of businesses, more companies are shifting their focus on utilizing the features best suited to their needs. Hence, below are the benefits pertaining to multichannel communications for customer support.
Increase customer satisfaction
To offer multichannel customer support, focus on making your customers feel valued, and heard across the board. Make the customer feel like whatever assistance you are providing is solely for their help and benefit. A custom interaction takes place after certain negotiations. Therefore, it is crucial to take the customer sticking through the right route for increased satisfaction with the whole procedure as well as the end result.
Help to build customer relationships
The first and foremost goal of providing customer service is to maintain an ongoing customer relationship. It strengthens the customer loyalty bond, and people tend to turn back to the brands that seem to provide them with consideration. Good multichannel communication would take a customer through messages to personalized calls if necessary. And leave an open line for contacting next time.
Ideal for multinational and national support
Multichannel communications work best for global organizations. It is easy to maintain both local as well as overseas connections through multiple channels streamlining customer support. For example, a customer who resides within your home-country can contact you easily via local calling mediums like landline or toll-free numbers. An overseas customer would be pleased to communicate with you via direct messaging, email, or call you on Whatsapp, depending on the severity of the situation.
Add value to your brand
As we mentioned earlier, customer support service has become the primary differentiator of brands, having a verified online presence plays a lot into your overall brand image. Customers tend to judge a brand by its active online presence and multichannel communication availability. A brand is automatically appealing for a customer if there are legitimate options to choose from in need of assistance.
Bottom Line
Conclusively, every brand needs to understand that each interaction though, needs to be consistent. It should be made to fit each channel. Where a detailed letter format would work formally for email, emojis and abbreviations would work for a chat environment. The choice is all that matters. So let your customers decide how they want their issues resolved and provide them with the best that you have to offer.