When you launch a brand-new community portal to collect feedback, it could be rather complex and difficult to involve your customers to collaborate in the beginning. Here are some useful tips to generate more feedback and increase collaboration within your newborn community portal.

1. Prepare Your Portal for Feedback
Branded feedback portal with the custom interface will make a good initial impression on your new visitors and will keep them coming back:
Modify the portal's style to match the design of your website/application;
Change the basic identity of your community: upload company logo, set up a custom domain, give a relevant name to your portal;
Build the home screen as a starting point to meet your customers using built-in widgets and managing blocks positioning.
Here is an example of a perfectly customized community by Cpanel.
2. Seed before Harvest
Be the first one to share ideas on how to improve and grow your business. That helps to inspire visitors to leave their own opinion on the topics or add their own suggestions:
Add a couple of ideas that have been recently implemented;
Add the answers to the most common questions around your service/product;
Share several ideas from your short-term roadmap planned for the nearest future.
3. Share Your New Tool
Use any way possible to make your customers aware of your community portal:
Write a blog post about your new community portal, its benefits, and how it works;
Share the portal via social media: Twitter, Facebook, LinkedIn, etc.;
Make a mass email company introducing your new forum to your customers;
Organize a meeting to train your employees on how to use feedback tool internally.
4. Make Your Portal Easy to Find
Promote your idea management platform to increase its popularity and collect more feedback from customers:
Embed a feedback widget into your website or app;
Insert a link within your website/application that will forward your visitors to feedback portal;
Add community links to employees email signatures;
Include community links to your release notes and blog posts.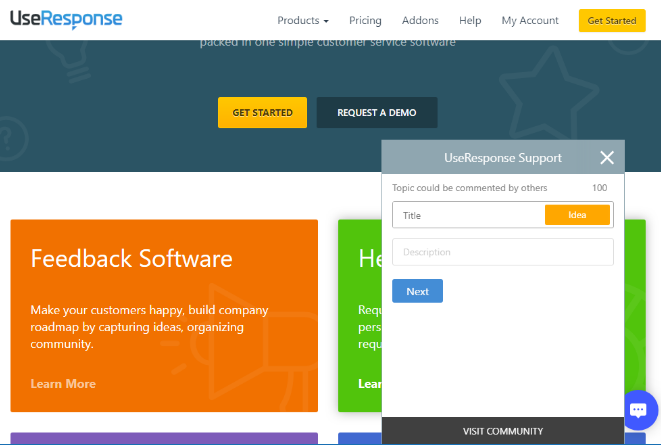 Within this blog post, we've discussed some best practices as far as feedback collection is concerned. Please take into consideration that these practices work the best when you implement all of them or at least the majority of them. Feel free to contact us in order to investigate more on this topic.