Did you know that there are over 200 help desk service providers you can find on the Internet? It seems like there's a solution for everybody. However, the more options – the harder the choice.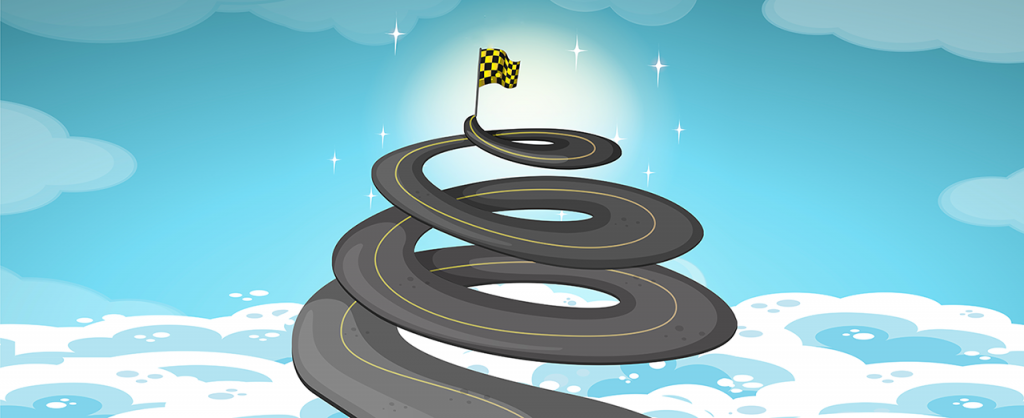 Finding the right help desk system that better meets the needs of your business requires a thorough comparison of the core features and other factors that need to be taken into consideration.
We are here today to give you some practical tips on how you can choose the most appropriate help desk software for your business.
Why Use Help Desk Software?
By implementing the right help desk software a company can record, manage and resolve the incoming requests and issues in a systemized and efficient manner.
In a small company or a start-up, these issues can be managed by one person or a small team using a shared inbox, but as business growths, a more sophisticated system is required.
Increase Customer Satisfaction
A customer is always expecting a clear and quick response to his or her query. And a help desk software assists in meeting these customer expectations by providing multiple ways of communications, self-service options, and CSAT surveys.
Improve Team's Productivity
An efficient help desk software can solve low-touch tickets, automatically route inquiries to the right agents, remind of tickets that haven't been updated for a while and much more. Generally speaking, it can help your support team do more and better with less effort.
A help desk software helps in recording customer complaints, problems, and suggestions. Therefore, you have a summary of product shortcomings and customers' expectations. Besides using specialized customer feedback software, you can take feedback from your help desk and improve your product with the help of the feedback that the help desk provides.
Check out this chart to see what other aspects of customer service are impacted most by implementing the help desk software:

Things to Consider when Selecting the Best Help Desk Software
As mentioned before, there are hundreds of solutions on the market. Each of them has its unique benefits and nuances. And you need to understand which things to consider when selecting the best help desk software for your business. All companies want robust cost-effective scalable solutions that will be reliable, efficient and serve for a long time. But how to make a choice out of such a great variety?
Ask Yourself These Four Questions
1. What kind of service do your customers expect?
Before answering this question, you need to focus on the needs of your customers. What makes your customers contact your help desk? What channels do they use to contact your company? You should always have in mind what your customers expectations are before selecting a help desk solution.
2. What does your support team need to stay on top of their game?
You should consider the needs and challenges of your support team. Ask them what their requirements are and what they are expecting after getting the software.
The three departmental performance factors that help desk software improves most are software problem resolution time, first-contact resolution rate and overall productivity of IT staff.

Source: SoftwareAdvice Findings
3. What are the company goals for the near future?
Are you looking to implement new technologies? Or maybe the company is going to expand the product line, or expand to the new markets in different countries? When selecting a help desk software you should take into consideration it's scalability, localization, and customization.
4. What should the new software do that the old doesn't?
You need to consider the benefits that you will be getting after installing the new help desk system. Maybe you need to cover some new communication channels, or better automate the flows or improve self-service interactions, or simply reduce the maintenance costs.
According to Capterra research, 67% of the buyers who were unsatisfied with their current help desk software cited a lack of certain features as the primary reason, above price and support.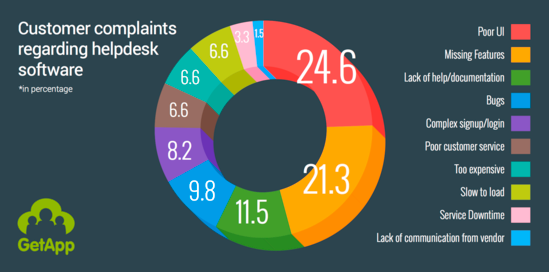 Outline the Features You Need
Before getting down to researching the options, you need to define and prioritize the things that the new solution should do. Split the features into two categories: must-have and nice-to-have, and move from there. Here are some suggestions to get you started.
The most frequently used help desk functionalities are ticket management, reporting and analytics tools and live chat integration.

Source: SoftwareAdvice Findings
Your customers should be able to address their issues via the channel of their choice. More so in the age of social media and messengers. And a help desk should help you effectively gather inquiries coming from different sources into a single place. Make a list of the channels your customers are currently using and think of optimal channels that can be added.
The help center is one of the ways you can provide support 24/7 as well as let customers solve minor issues by themselves. An informative self-service help center can prevent a great number of low-touch tickets and increase customers' satisfaction with your product. Also, an automated ticket rerouting would be an awesome addition to already existing knowledge base solutions.
Other than being able to organize the support flow, you should also be able to track how your team performs, how many inquiries you receive, what is the first reply time, what is average resolution time, etc. When investigating the reporting capabilities, pay attention if the software allows building custom reports and if it can be done easily .

Integrations and Data Export
Check if the vendor offers ways of bringing in data from other apps your company uses. For instance, CRM, task tracker, etc. Also, check if there are easy ways of exporting tickets or other information from the help desk. This feature comes in handy when you need to back-up your data, report to the stakeholders, or switch to a different help desk solution.

Nice to Have Features
Obviously, these features differ depending on the end-user. Thus, writing out your own list of specific help desk features will be a beneficial strategy for narrowing down the list of future service software options. However, we will still give you a list of some help desk features we consider efficient in the majority of customer support cases.
Ticket Automations, Categorization, and Custom Statuses
First of all, outline the automation solutions that will perfectly fit into your ticket handling process. Ticket assignment, closure, reminders, etc. are seemingly small improvements that can dramatically affect productivity when added up. The same concerns ticket categories and statuses. If the system allows setting up your own statuses and categories, it will be a massive helper when you filter the tickets based on importance, for example.
SLA (Service Level Agreement), in short, is a commitment between the service provider(you) and the customer. In terms of help desk software, the SLA rule is a definite period for resolving the customer's issue. Your business, for sure, has certain SLA points established. So, in order not to break an agreement and preserve your good reputation among the customers, choose a help desk that has the SLA rules functionality.
Having a live chat that works based on Artificial Intelligence is another helping hand in reducing the number of repetitive questions in the ticket stock. Especially now, when users don't really care if they talk to a real person or a chatbot as long as it provides relevant solutions. And this is the task a help desk with live chat functionality can tackle.
Tools for Team Collaboration
There's no surprise that complex issues are hard to resolve by a single agent. In these terms, a great help desk will provide options for other team members to communicate over the ticket and participate in its resolution. Sometimes the help of other support reps or even company departments is essential in certain support cases.
Another feature that will reduce the number of incoming tickets is the customer's ability to create and take part in online community forums. The users will be able to not only search for the available solutions in the KB but also help each other. People like forums and, moreover, end-users with first-hand experience sometimes can explain the case in a simpler way.
If you're working internationally, the chances are that your customers will speak languages different from the one you're mainly using to operate the business. That's why it's important to provide your customers with multilingual options. For instance, it will be much more comfortable for them to raise a ticket or look up for a solution in the knowledge base.
Decide the Budget
After knowing all the current and future needs for choosing your help desk software, you need to consider your budget. Firstly, you should consider the size of your support team. Most help desk solutions come with per agent pricing plans. If you have a big team, you need to find a plan to fit your needs at a low cost per agent or consider using a self-hosted solution. If you own a small business and few agents in the help desk team, find an economic plan. You should also look for any additional charges or limitations of the plan before committing.
Helpful tip: Ask the vendor if there are any extra charges for:
Installation
Consultations
Team training
Yearly renewal (for self-hosted)

SaaS or Self-Hosted?
Another big challenge is deciding about the deployment model. In case a company has a big list of support agents and incoming requests it can be more price-effective to install a solution on the company's servers (on-premise). In case a company has strict data storage, technical, access and privacy requirements, a self-hosted solution can also be a better choice. A self-hosted help desk can be a perfect fit in case a company has a specific use case and some custom development is required. But in the majority of cases companies pick up cloud (Software-as-a-Service or SaaS) solutions for their help desk centers.
Define Your Options
Now onto the most challenging part – the research. Looking for reviews of the software is the best thing to do. Fortunately, there are enough resources where you can find honest and verified reviews of software. Take G2 or Capterra, for instance.

The websites allow stacking up multiple vendors to see what they offer price and feature-wise. You can also go on Quora and ask questions about the software of your choice as well as check queries of other people.
Sign up for a Trial or Demo
Once you have narrowed down your options, it's time to see each of them in action. Many help desk software providers offer trials and demo versions of their products, as well as live demo sessions.
Ready to give a try to UseResponse Help Desk Software to see all features live in action?
Make sure to make the most out of your trial so that you can have a better idea of what you are getting into. Involve your team in testing to make sure they find the interface of the help desk convenient and easy to use.
Helpful tip: Also, pay attention to the documentation materials and check how often new features are released.

Evaluate the Support
Among other core factors to base your decision on picking up the right help desk software is how their own support functions. You should acknowledge if they offer training and installation assistance. Also, try submitting a couple of questions and tickets to see how timely and effectively their support works. Not always your new support system will work as expected and you need to make sure that any of your issues will be resolved with a personal touch and on time.
In general, there is a long list of factors that come into play when choosing the help desk solution, and according to the Capterra Research the most popular are the following:

Making the Final Decision
Many factors come into play when choosing the best help desk software. The solution should be efficient, cost-effective and easy-to-use and implement. Think of the support processes and objectives your company is trying to achieve with help desk software, and after this make up a list of questions to ask. Choosing the right tool can be overwhelming, and we hope that this article will give you general idea in which direction to move.
In case you have any questions, or need a piece of advice, please feel free to contact us.
Read More: