Your Knowledge Base is often a large part of customer support self-service that customers experience when they interact with your brand online. It is important that the content be easily accessible, well-structured, and that it consistently matches the design, layout, feel, and the voice of the rest of your web assets.
Research on the Harvard Business Review site shows that reducing the effort customers need to exert is key to providing outstanding customer service.
A clean, consistent KB design and structure will reduce cognitive load and ease the discomfort of working to solve the problems.
Sometimes it may be a good idea to empower your support agents to become part-time authors, so they can create or edit the knowledge base content. And if you have two, three, or more writers for your support center, then having knowledge base guidelines is a must.

No matter who is working on your knowledge base content, the best way to ensure consistency in your knowledge base appearance is to take some time to create a dedicated KB Guidelines document.
Knowledge Base Design Guidelines
A consistent knowledge base requires a thorough structure and planning. You'll need to document the standards used in your support content and put together an effective training program.
Here are some basic headings that you may want to include in your KB guidelines. Build upon these ideas as you craft a detailed set of internal business process instructions for anyone who may be authoring support content in your knowledge base center.
Support Portal Architecture
Determine where your support portal will be hosted, how it will be accessed, and the logic behind your knowledge architecture. The more descriptive you can be, the easier it will be for the others to contribute towards a dynamic architecture that flexes with customer demands and new products and services.
Decide what type of content your knowledge base will include and what categories you will use. Think of which categories should be private (available to the team only) and which will be available to the public.
In the infographics below you will find some typical structural elements of a company knowledge base portal that you can create: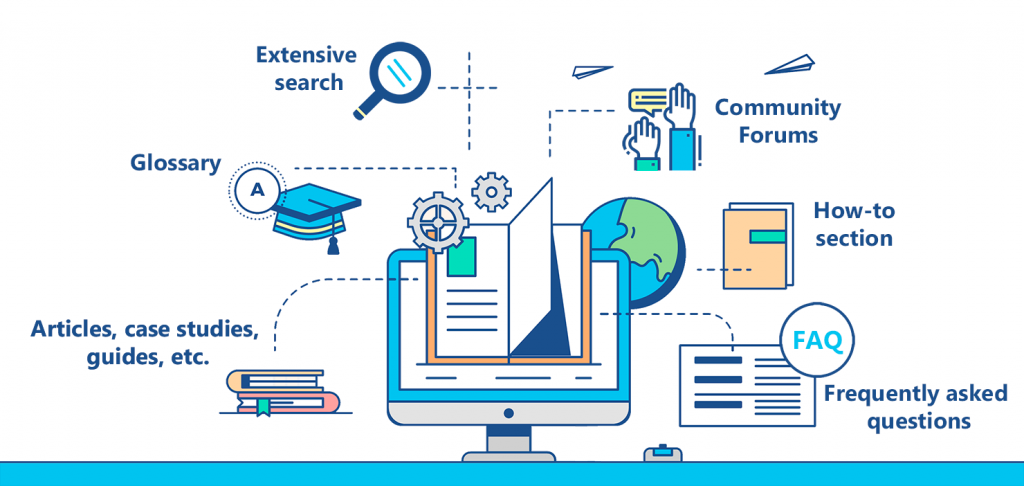 Some tips:

1. Use a Powerful Search Engine. This is one of the most important parts of a knowledge base as there is no use in the information if it is not searchable.

2. Contact Support Option. Always leave an easy-to-find option for users to contact your support for the questions they couldn't find an answer to.

3. Use Tags. Use tags in order to easier navigate and make the content more searchable.

4. Implement a Community Forum. Community forum can be an essential part of the customer support self-service platform. It's a place where users can leave their questions while you and other users can answer them. Community forums serve as hubs for organically generated FAQs content from the customers. Learn more
Create Your Knowledge Base Style and Formatting Standards
Start with your own brand guidelines, color schemes, fonts, formatting standards, logo usage rules, and so on. How about paragraph indentation, alignment, font size, style, table formatting, etc.? Make a note of all of this. You should always refer and link back to those original standards in the KB guidelines.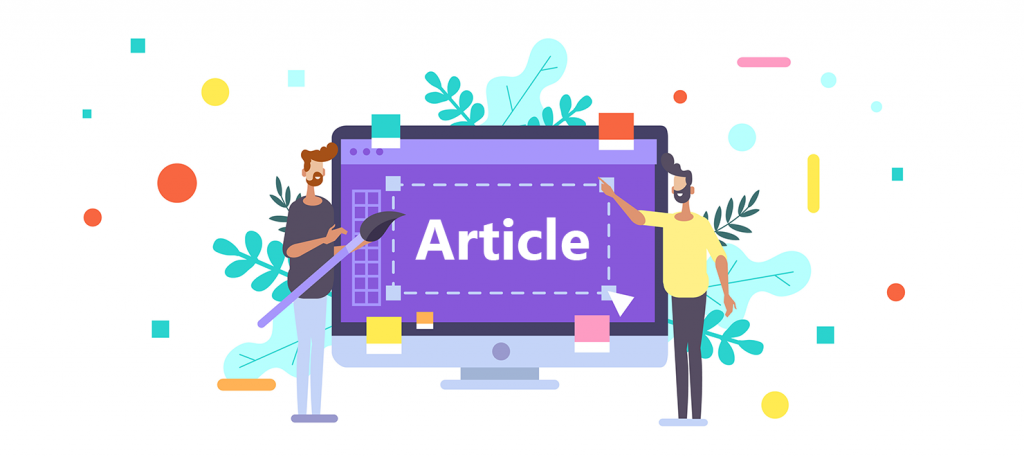 Some tips:

1. Try to be short. Always try to keep your explanations and guides as simple and relevant as possible.

2. Break text into paragraphs. Make the information structured and break long read copy into smaller pieces.

3. Use lists and steps. Structure the information in a way that's easy to comprehend.
Knowledge Base Article Content Design
In your knowledge base guidelines describe if you want to have a common closing line on every article? Or a link to ask your customers for article feedback or new feature ideation?
Here is the structure of a typical support article you can use: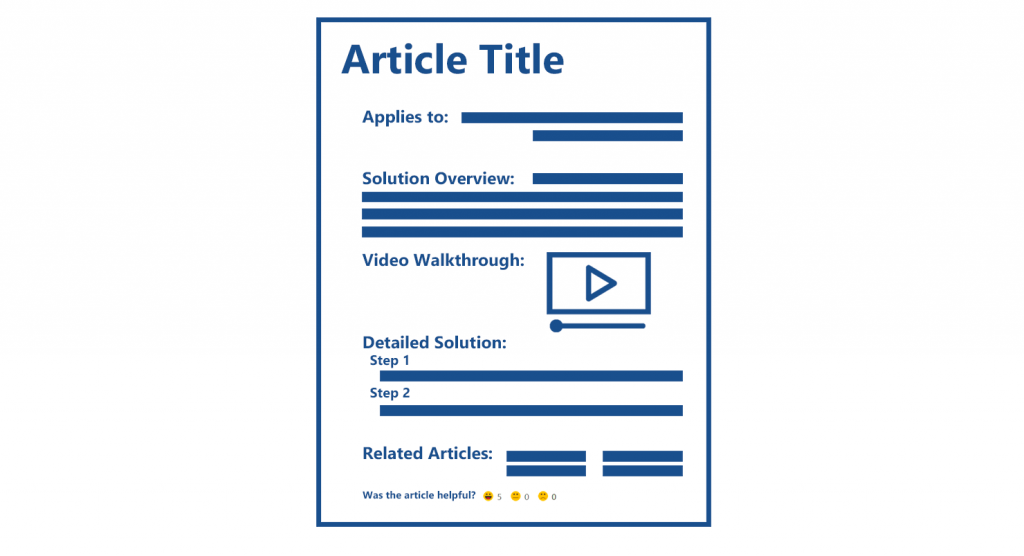 Animated Images
Animated GIF images can be very powerful in the right situation. Try to capture one step in one image if possible and be sure to describe in words the location of a point of interaction even though you show it in a screenshot.
Support Videos
Full-length support videos are appropriate for any highly visited articles. Videos should be clear and well-formatted, better using a video editor and embedded as visual content, while you should also duplicate the information in text format. 
Internal KB Linking
Point out to the internal resources that go more in-depth so you don't have to describe everything in one article. Talk about the processes that can make it easier to effectively link to other articles, and to your promotional or upgrade content.
External KB Linking
When is it appropriate to link to an outside resource? Generally speaking, you may want to avoid linking outside of your help center unless it's either to a very strong, authoritative source such as a link to a Microsoft article that describes how to do something within Windows. But even in this case, you could consider creating our own version of the same content if it is something your users will encounter very frequently.
Customer Satisfaction Level Measurement
Use Customer Satisfaction (CSAT) to see how well the content of your knowledge base meets the expectations of your customers and find the areas of improvement.
301 Redirects in Knowledge Bases
When articles are deleted, how will the old URLs be handled? If a new article is going to replace the old URL, it's best to apply a 301 redirect (if your knowledge base platform supports it).
Security Standards
Most of the content in your knowledge base is meant for customer consumption, so high security isn't always necessary. But internal employee processes are the backbone of your business approach and can give you a serious competitive advantage. So it is critical to ensure this information does not fall into the wrong hands.

Business Critical Documentation
When your knowledge base guidelines are done, ensure they are published internally in a way that they are easily accessible. It might even pay to generate a custom, short URL (password protected of course) on your primary domain so that your writers can jump to the URL (like example.com/kb-guide) or create a private article inside your knowledge base. Internal KB guidelines are only useful if people actually use them, so you should check it from time to time.
Your knowledge base authorship guidelines can become an important part of the pool of owned knowledge that makes your company unique and scalable. If you don't have the talent internally to create high-value content, you can always bring in an outside technical documentation resource. However you do it, make sure you are growing the knowledge pool so that your business support operations are not reliant on just one person.

Ready to try UseResponse Knowledge Base Software?
Out‑of‑the‑box knowledge experience for customers, employees, and agents