Customer experience mapping is one of the best ways to find the areas for improvement of multiple aspects of your business. Creating a customer experience map results in a deeper understanding of your customers, and their relationships with your brand. It also helps to ensure that the brand experience remains consistent for all customers across all touchpoints.
From the customer perspective, CX mapping shows the correspondence of customers' expectations and actual interaction with the business. Creating a customer experience map requires a lot of work analyzing customer behavior at various touchpoints, and may seem to be an overwhelming task, so you need to map through a step-by-step process and cover all the aspects of customer interaction with your brand.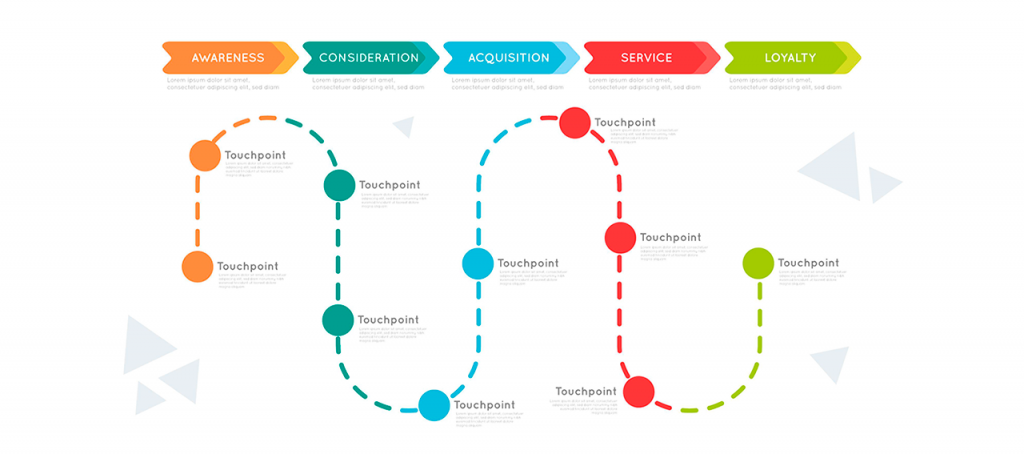 What is Customer Experience Mapping
Customer Experience Mapping (CX Mapping) is a visual representation of all the touchpoints a customer has with a brand (company). Experience mapping covers all the journey a customer takes from the first moment he becomes aware of your company or product to the purchase and after-sales support.
Customer experience mapping is similar to customer journey mapping, but there is one big difference: while customer journey mapping focuses on the actions your customers go through to get to a certain point (e.g. from getting a flyer to making a purchase from you), customer experience mapping focuses on the experiences and interactions they have with your brand overall. It continues through ownership, usage, service, support, reviews, references, feedback, and referrals.
Customer experience maps are usually visualized instead of being simply presented in the form of text to allow you and your team to better understand how your customers think, what they feel, and how they act at each touchpoint and across all the channels.
Benefits of Using Customer Experience Mapping
Customer experience mapping has many benefits, it helps companies to understand what their customers go through and improve the quality of services. And here are the main benefits of using customer experience mapping for different areas of your business:
Marketing: Your marketing will be significantly improved once you start using customer experience mapping. Your marketing team will be able to step into customers' shoes and see their actions from the customer's perspective. Because you will now have a better understanding of your audience, you will be able to deliver your messages more effectively and maybe even reduce the cost of your digital marketing.
Sales Training: Customer experience mapping allows you to better understand what elements of your sales strategy work better than others which helps your sales team create a more efficient plan of action. At the same time, you will be able to improve your customer personas.
Customer Retention: Because customer experience mapping is also concerned with what happens after the purchase, due to improving customer experience you will realize that your customer retention will also improve gradually.
Customer Onboarding: Customer onboarding is all about getting new clients which is the cumulative result of all your improvements done with the help of customer experience mapping.
Customer Support: And, of course, customer experience mapping is all about improving the experience your customers get with your brand by having better customer service and support.
In addition to all of that, customer experience is crucial for your company with more than 88% of companies prioritizing it and 96% of customers saying it is important to them when it comes to staying loyal to a brand.
Key Elements of Customer Experience Mapping
Customer experience mapping is a complex process, it requires a lot of preparation and analysis work. Here are the key elements of customer experience mapping stages:
Awareness which includes keyword searches and ad impressions;
Interest which includes click-through rates and landing page views;
Consideration which includes case studies, e-books, and blogs;
Purchase which includes promotions, special offers, and sales pages;
Usage which includes product guides, tutorials and support;
Retention which includes referrals and reviews.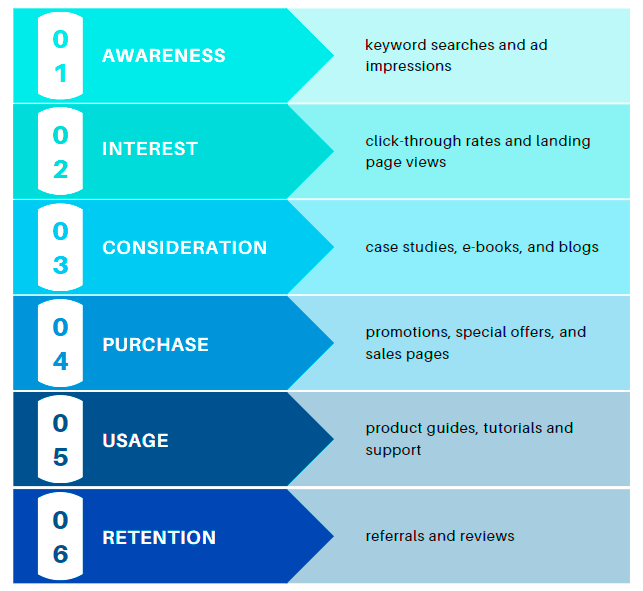 How To Create A Customer Experience Map
Now that you know about the benefits of customer experience mapping and its key elements, it's time to get into how exactly you can create a customer experience map. Here are the exact steps you will want to follow:
Understand Your Customer Journey
First of all, you need to understand your customer journey. Customer journey mapping is different from customer experience mapping, but they are very closely connected. Customer journeys can be used to help you with customer experience mapping. They show you the actions that your customers take in order to get to the point where they make a purchase and then move beyond that. A customer experience map covers the journey consumers go through to become your customers from the point of discovery through to consideration, purchase, usage, and returning for new purchases. Depending on your goals you may want to create several journey maps broken by stages or map the entire customer experience process.
Identify What Your Customers Feel
Once you understand the actions of your customers, you will need to understand the feelings of your customers. The experience they have with your company is directly related to the feelings they have during all the interactions with your brand. For example, the ads they see could either irritate them or make them laugh. Of course, you would want to get the second reaction because you expect them to want to check out your website and interact with you more moving them onwards in the customer journey. To prevent the possibility of them having negative feelings, you need to create a customer experience map that will take into account all of the risky points in the journey and ensure customer success.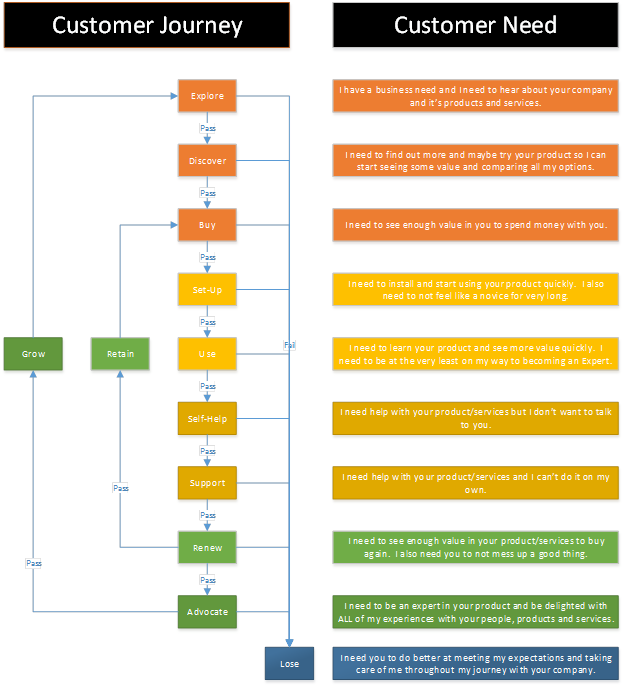 Gather Information
Identify why your customers want to interact with your company. How do they find it? What are their objectives? What channels do they use to contact you? Do they experience any issues during the purchase process? How likely are they to recommend your products to their friends?
You can answer these questions by gathering and analyzing the information from various sources. These can be analytics and customer behavior tools, market research, various feedback tools, analytics data from your customer support and service software. You should gather quantitative and quality info about the customer experience, like e.g. 20% of users contact support before the purchase.
Perform internal research within your company. Talk to your Support team, marketing, and sales, the people who interact with customers directly.
To gather quantitive feedback across your customer base, consider tracking core customer experience metrics. Such CX metrics include Customer Effort Score (CES), Customer Satisfaction Rating (CSAT), and Net Promoter Score (NPS). You can also use your customer feedback software at specific touchpoints to identify where users are experiencing problems, what they like, and what can be improved.

Outline All the Customer Touchpoints
Speaking of these particular points, your customer touchpoints are the ones you will need to get right if you want to create an efficient customer experience map. These touchpoints are the exact steps you want your customers to go through in order to get to the actions you want them to perform. For instance, if you want your customers to make a purchase and then subscribe to your newsletter, you will first need to grab their attention with ads, interact with them on social media, direct them to your website, etc. These may also include in-store activity, web searches, sales calls, blogs, help desk ticketing tools, emails, online chats, social media, conferences, reviews on various websites and app stores, or face-to-face meetings.

Create Your Customer Experience Map Outline
The touchpoints you have chosen from the customer journey will now need to be used in your customer experience map outline. They are not just the steps your customers will have to go through, but also the elements that help you create a certain structure for your future map that you will be using as a foundation. Remember that your customer experience map outline doesn't have to be very detailed. Once you get the main points down, you will need to go back and recheck if everything is in place. Only then, once you are sure about this structure, you can move on to the last stage of creating your map.
In order to create an appealing visual design of your experience map, you can try using such tools as Indesign and Canva.
Add All the Necessary Details
By using the outline you have, you can now add all the necessary details to your foundation. This time, you can write as much as you want because the more details you add, the better you will understand your customer experience map. This last step is the most important one, but it can only be completed if you do all the steps before that which are a kind of "preparation" phase before you can actually create your customer experience map. Keep in mind that you can also use visuals to enrich your map. For example, infographics can be extremely effective in summing up part of the information you have which will allow you to keep your customer experience map more concise. Once again, it's a plan for you to follow, so you need to make sure that it is designed in a way that will be the most comfortable for you to use and implement.
Examples of Customer Experience Maps
Below are some ideas for inspiration that will show you what your customer experience map can look like.
In these examples, the maps are separated out into stages, departments, touchpoints, thoughts, and emotional experiences across the different phases.
By Departments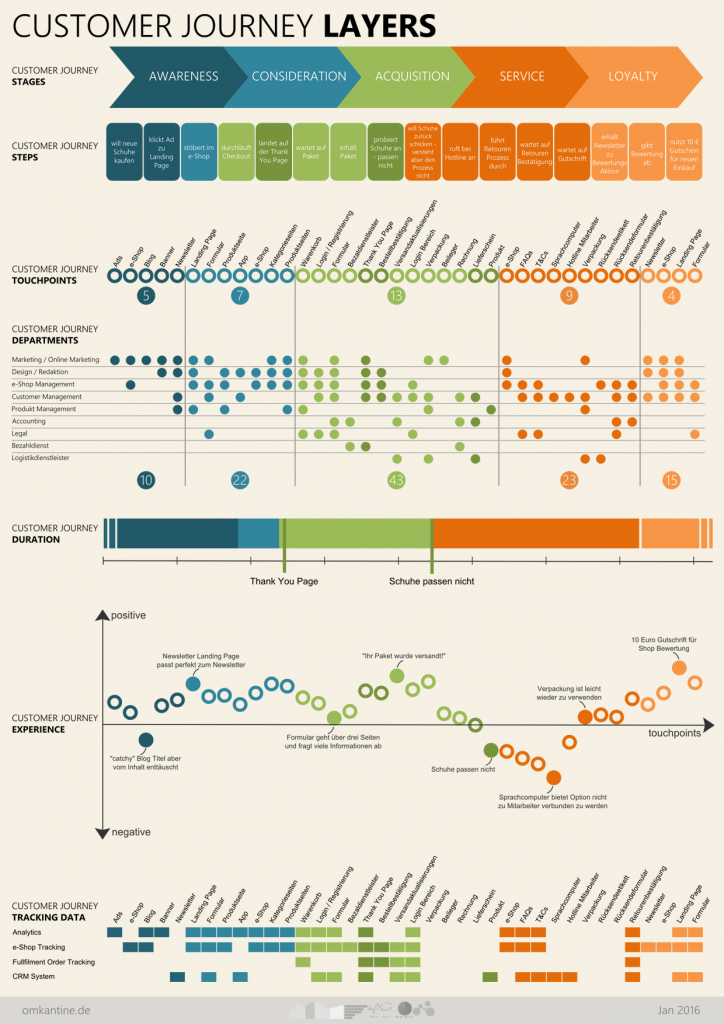 Rail Europe Experience Map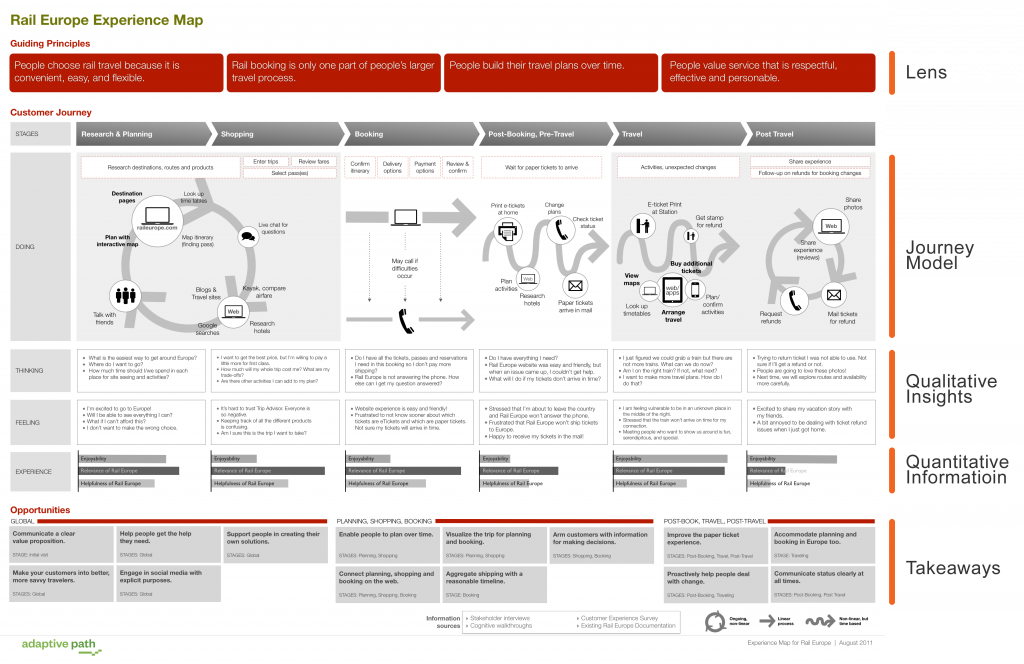 Starbucks Experience Map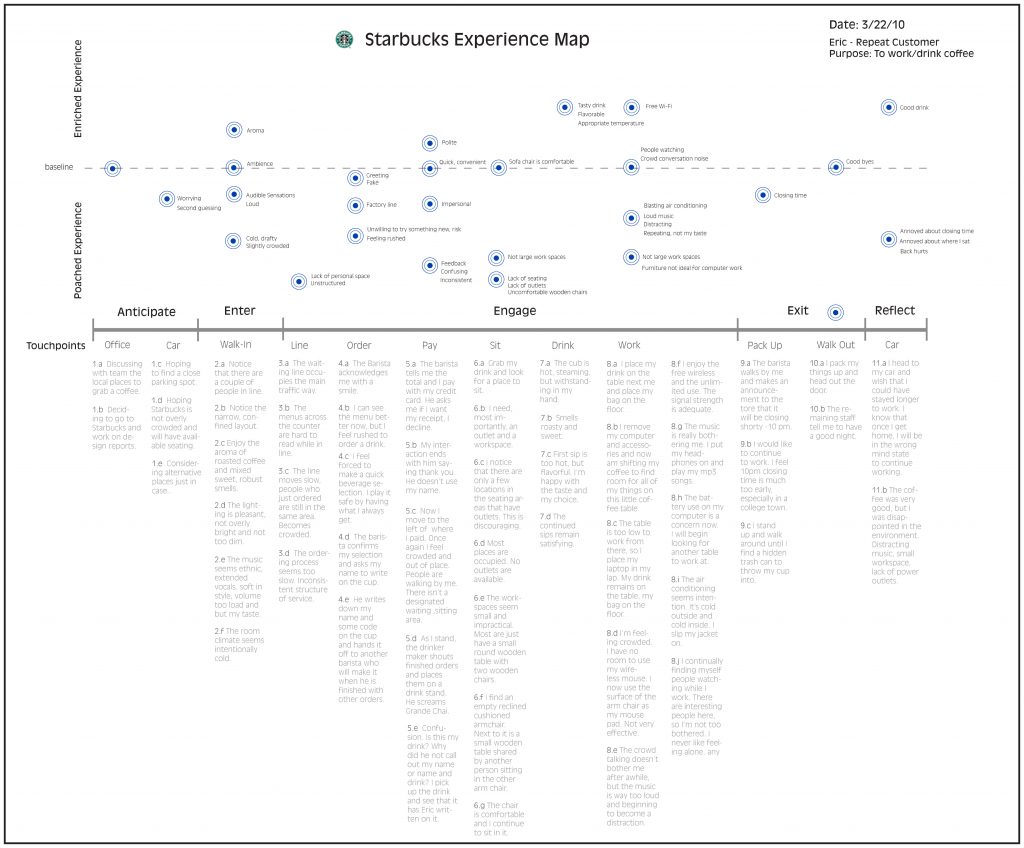 Purchase of Software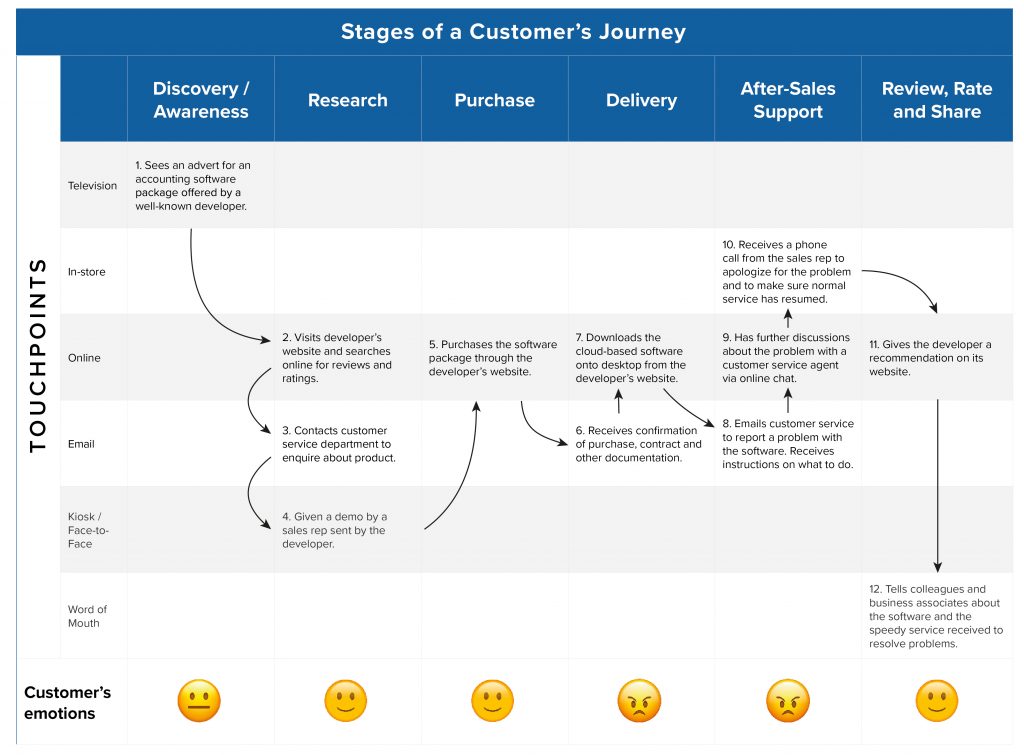 B2B Customer Experience Map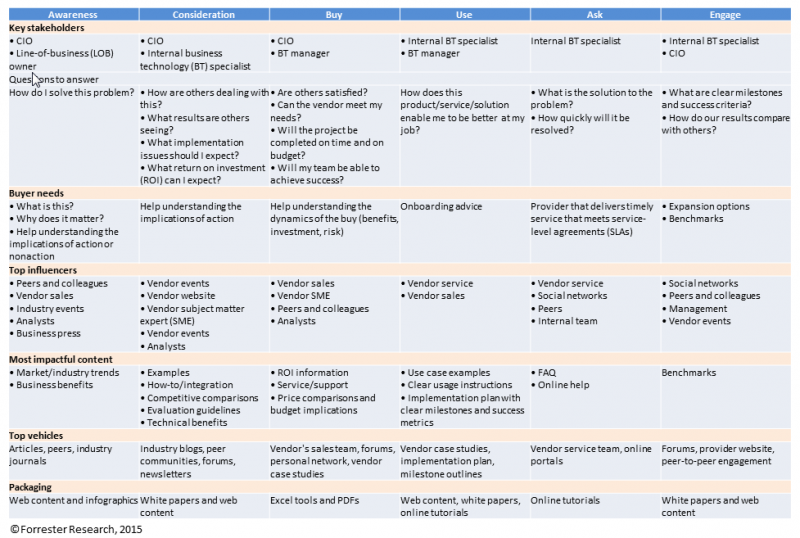 Final Thoughts
To sum up, customer experience mapping is one of the best methods to understand how your customers feel about your company and uncover the opportunities for improving sales, marketing, and customer support processes. This is a great tool to understand your customer expectations as long as you know what you are doing and have a good plan.
Follow the tips outlined in this article and use your analytical skills and creativity to use customer experience mapping successfully.