Quite often the last thing a customer wants to do is pick up the phone and talk to a customer service agent. The same is true for sending emails back and forth and creating tickets. The truth is that the majority of users just want to solve the problem on their own if they can.
Nowadays customer self-service is no longer nice-to-have, it's a MUST in providing a positive customer experience. Gartner predicts that by 2022, 85% of customer service interactions will start with self-service, up from 48% today.
What is Customer Self-Service Portal?
Customer self-service portal is a support channel that provides information and resources to help users find the answers and resolve the issues on their own, without requiring any direct interaction with a company representative.
"Customer self-service and support is a blend of customer-initiated interaction technologies that are designed to enable customers to serve themselves."

Source: Gartner
Customer self-service is an important part of customer service, and today you must have it as part of your customer service strategy.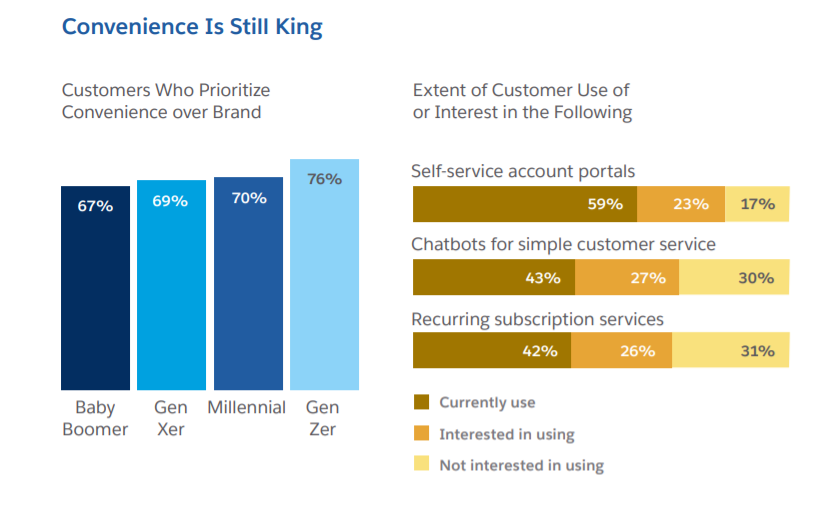 But self-service can only be an option that customers may choose to use, it cannot replace regular support channels completely. The success of customer self-service depends on its efficiency, convenience, and ease of use.
There are two most common types of self-service portals – customer self-service and employee self-service.
According to Microsoft findings, on average two-thirds of users go directly to self-service first before engaging with an agent:
One of the greatest arguments in favor of applying customer self-service is that it allows customers to find solutions to their problems in less time. Customers don't have to spend hours on a phone and be put on hold, or be transferred to another operator again and again. But not all customers turning to self-service are able to find solutions and answers on their own. There can be several reasons for that:
The issue is too complex and requires assistance of an agent;
There's not enough information available;
There's too much information and it is disorganized;
The search doesn't provide any results as the customers use non-professional terms for search;
Some customers just prefer the human touch.
Whether you want it or not, the trend is that the vast majority of users (around 90%) are expecting the companies to provide self-service options, and the results and effectiveness of customer self-service depend on how well it is organized by a company.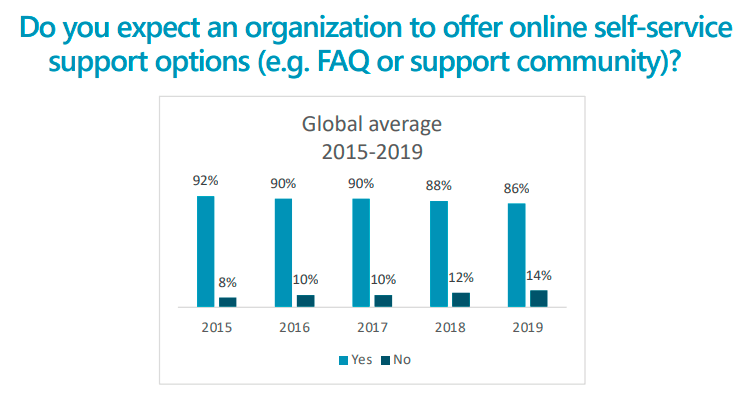 Effective customer self-service is always a win-win. On one hand, it increases customer loyalty. And on the other, it can drastically improve the KPI of the customer service team and gives your agents more time to work on the really complex issues.
When implementing customer self-service, companies also have such expectations as improving customer satisfaction, reducing costs, and time spent on customer support, as well as reducing the load on the support department.
Below you can see the benefits experienced by the companies that have successfully implemented self-service:
Self-Service Options for Customers
There is a way to do customer self-service right. We're going to look at the most effective options for organizing customer self-service and give you some advice on how to organize a powerful self-service portal for your company.
Customer self-service portal is a webpage or a web-based self-service system, integrated with the help center designed to solve customers' requests without direct contact with the company representative.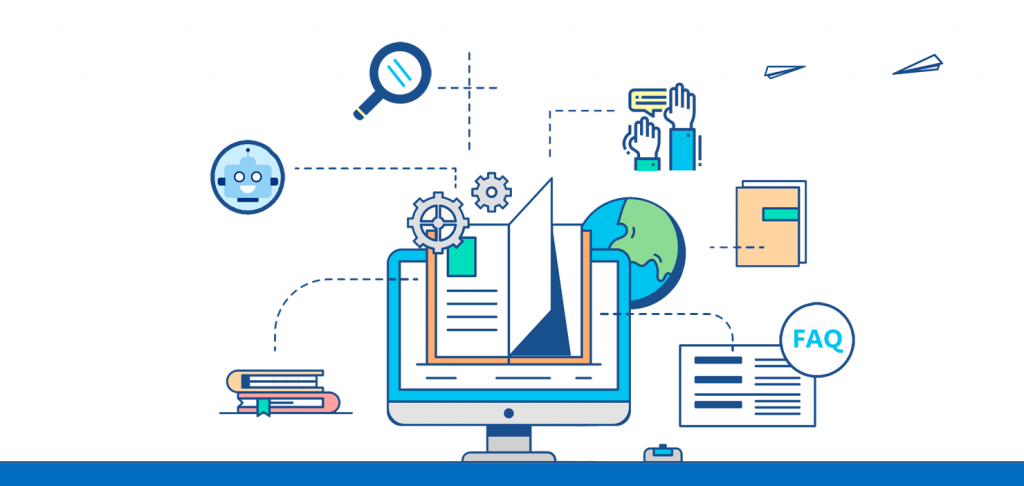 The most common options of customer self-service portal include FAQs, searchable knowledge base documentation, chatbots, online discussion forums, and automated task management systems.
Self-Service Options for Customers:
When planning your self-service strategy, you should consider each step of your customer experience journey from pre-sales to customer support in order to handle all types of requests – from commercial questions to complaints. But remember that customer self-service should only be an option and do not exclude direct contact with the agents.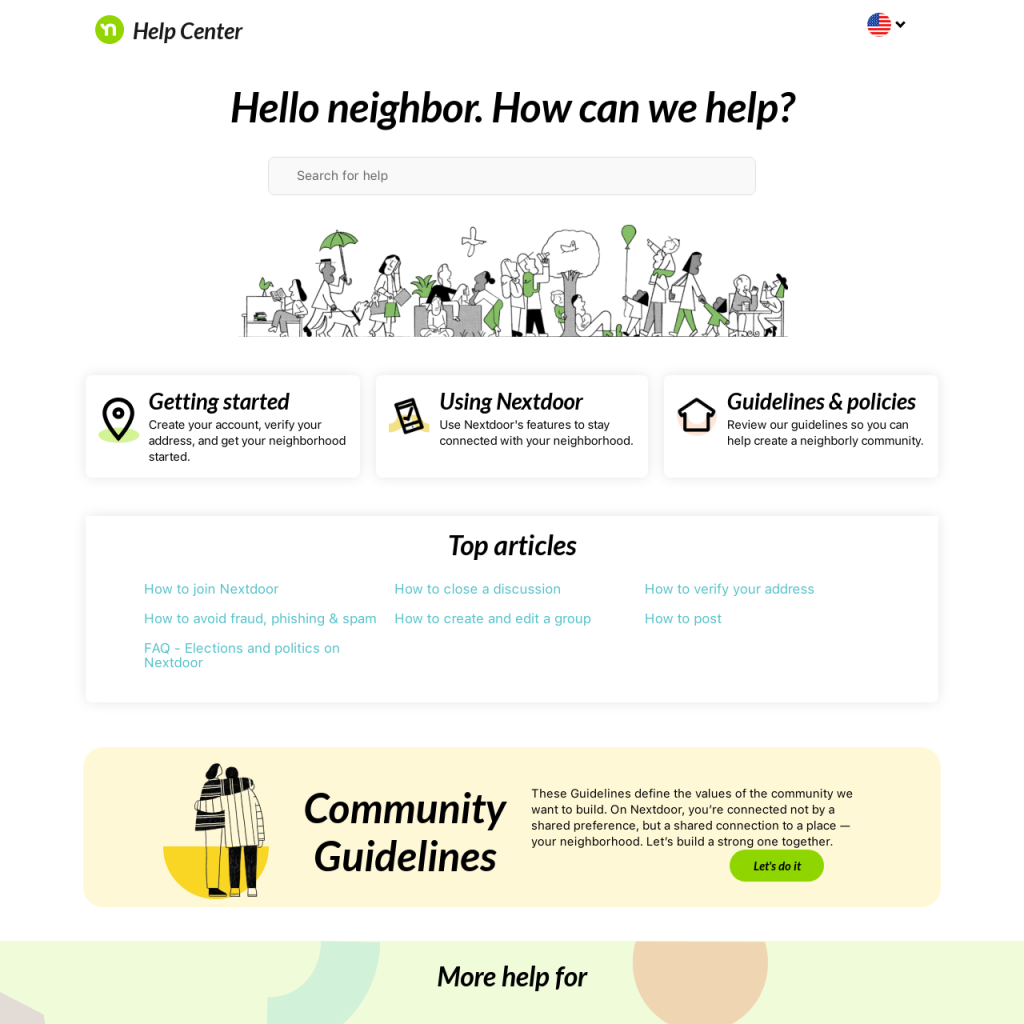 1. Knowledge Base for Your Products or Services
A knowledge base is a centralized repository of information on the website where customers get to solve their issues and find answers to their most common questions. It includes documentation for the products or services, and articles to help customers troubleshoot issues and find the necessary on their own.
Customer self-service knowledge bases are usually built around the most common information required by the customers, from pre-sales information to the details on onboarding and using the product.
Tips for creating effective and consistent knowledge base:
Highlight the most used FAQs to be at top of the self-service page, or at a place the customers will be able to find them easily
The information should be well-structured and the knowledge base should be searchable. Use tags to improve search results. 
Your content should be based on hierarchy providing users with the necessary information and allowing them to quickly jump to other more detailed information about this topic. 
Keep your content up to date. Make the changes to the knowledge base along with the changes to the product.
Always monitor the search performance, track the searches with no results to add the relevant information, and perform a content audit.
Optimize consistency across the channels, and make your self-service knowledge base optimized for desktop, tablet, and mobile devices.
Speak customer language. Instead of using only professional terms try to add the wordings and the phrases your customers use, add them as tags. 
Give customers the opportunity to rate your content to be able to find the areas for improvement.
Enrich your knowledge base content with images, screenshots, and prepare videos where necessary. Also, you can create videos with step-by-step instructions. 
2. Online Communities for Self-Service
Customer community can be a lifesaver for a company with a large base of users. In terms of self-service, it can serve as a source of customer-based FAQs with elements of peer-to-peer collaboration, where customers answer questions of each other, share their experience, discuss tips, and use cases related to the products or services of the company. Such a sense of community can increase customer loyalty for your brand and be a great helper for your support agents by reducing the number of requests.
Though you cannot rely only on peer-to-peer collaboration when organizing a customer community. When posting a question of feature request, customers are expecting to get the necessary information, and an official reply from the company representatives should also be present. So, community forums work best when they are backed by support teams.
By allowing your users to post questions in a public way you can eliminate the number of duplicate questions asked. Customers can search through previous interactions and the questions asked before to find the answers. That's saving them time, and saving time for your support agents due to avoiding duplicate requests.
Tips on organizing customer feedback community for better self-service:
Use categories to organize the content and not to make it look overloaded. Create separate communities for various products;
In order to better involve the users, use gamification by awarding most active users;
To improve search, moderate the content and add relevant tags where possible;
Create automation for specific use cases to be managed and assigned to certain agents by the system;
Users can filter, search and follow the topics to stay informed of the latest updates.
3. Ticketing System Automations
Ticket system automation saves time for both customers and customer service agents.
A customer service agent can set up a system that sends emails to customers automatically, reminding them to follow up on their open cases, send automatic replies with links to the knowledge base, and closes the tickets when there is no activity over a certain time.
Customer service software that can automatically provide suggested articles and address issues without creating a ticket can be a huge assistance in providing self-service and accordingly lead to ticket deflection.
Tips:
Think of simple repeated operations that can be performed by the system, and set up the system to process these requests without direct attention of the support representative. These can be such tasks as password reset, check of ticket status, etc.
Create triggers to send out auto replies when the customers mention certain keywords in their requests or comments;
Automatically send follow-ups and close the tickets with no activity per certain period of time;
4. Chat Bots for Customer Self-Service
Companies can also use chatbots to provide proactive support and help customers find information quickly without having to make a phone call or send an email.
Chatbots can be used to provide answers to questions, collect additional information, and even automate certain customer service tasks. Chatbots can also be integrated with third-party systems to perform certain actions to reduce the potential ticket volume.
Tips:
For better customer satisfaction you should always provide an option for escalation during the chat in order to be able to get in touch with a live agent when necessary;
Make chatbot as intuitive and flexible as possible. The chatbot should be able to provide unique personalized responses, based on the conversation with the customer;
Constantly test chatbot scenarios and measure customer satisfaction to adjust the settings.
When chatbots can solve the customer issue, support agent time is reserved for more complicated inquiries.
5. Interactive Voice Recognition (IVR)
Companies use IVR technology to let customers find the required information and perform basic tasks by speaking to an automated voice system. IVR system ensures each customer can complete their task (such as checking current wait times for in-store support or renewing a subscription) during the call, without waiting on hold to get in contact with the support representative.
This technology is quite often being used by banks, both for inbound calls and outbound notifications such as reminders, or conducting CSAT surveys.
How To Promote Your Self-Service Options
Quite often companies have their self-service options available and ready to use, but they don't know how to change users' behavior.
Follow these 4 simple steps to initiate users use self-service options before actually contacting your support reps:
Make customer self-service portal visible. Display links to FAQs, documentation, and search in front of other channels at your contact page, help center, pricing page, and other pages on site.
Promote customer self-service using other support channels. Include links to the knowledge base in auto-reply emails, send links to documentation in chat while users are waiting to connect to the operator, remind callers on hold that they can try to find answers in your documentation, etc.
Introduce internal search. If the customer has started adding a ticket, do the search first, and offer them articles that he can use for self-service before proceeding to the next step.
Make the content crawlable by search engines to enable people find the answers by searching on Google, Yahoo, Bing etc.
Customer Self-Service Statistics You Should Know in 2021
Customer self-service is obviously trending nowadays, and if you care about improving customer experience, you should check these statistics:
Conclusion
Customer self-service portals can serve consumers and employees, and be a cost-effective way to increase service agent KPI, reduce the number of requests via other channels, and increase the average speed of issue resolution. It provides 24/7 support and immediate access to the information.
With self service customer support solutions should not just be able to find the necessary information, but perform some actions that do not require the attention of a support rep, like password reset, checking billing information, cancellation of account, etc.
Of course not all the requests can be solved with self-service, but self-service should always be an option for customer comfort. This method should be effortless, easily accessible, and functional.
Nowadays customer self-service is no longer nice-to-have, it's a MUST in providing positive customer experience.
______________________________________________________________________________
Try UseResponse Self-Service Portal with Knowledge Base, Chatbot, Online Communities and Automated Ticketing System.
Provide Support the way customers expect it: posing a question in a community forum, starting a live chat, or simply logging a case with a ticket. UseResponse provides a complete suite of customer self-service options that you can make available.