Any business that wants to succeed in today's competitive marketplace needs to collect and act upon customer feedback. The feedback you receive will give you valuable insights and help you make informed customer-based decisions.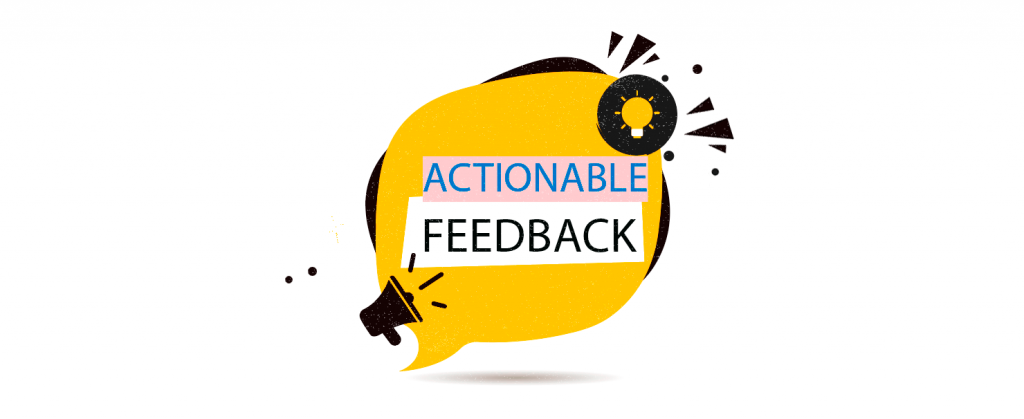 Feedback influences your product in all aspects: how it's made, used, and sold. It also results in customer satisfaction, because the more you know your customers, the higher your chances of creating a great experience for them.
In this article, we have gathered the most widely used ways of collecting customer feedback from current and prospective customers who come in contact with your business.

Customer Feedback Can Be Different and Come from Different Channels
Each channel provides a particular view of how, where, and why your customers are using your product or services. They each give unique insights into their likes, dislikes, and any issues they may be running into. The chart below displays the main reasons why customers are living feedback (according to a whitepaper by TFM&A Insights):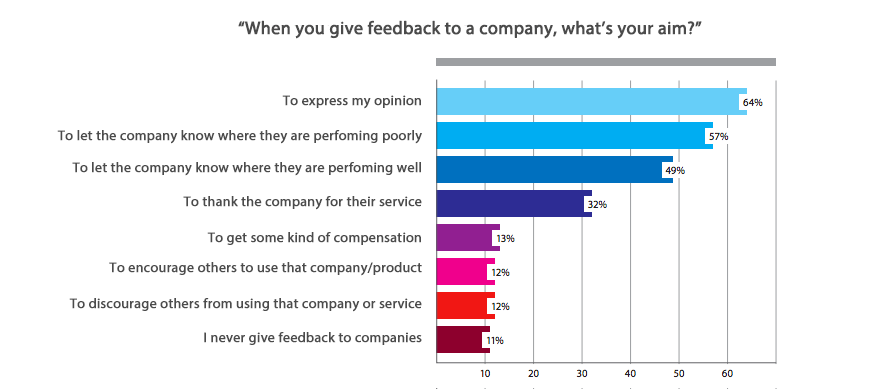 Your goal is to combine these different views to form a complete picture of the current state of your product and to understand where it should be going further.

Below is the list of the most useful channels of receiving customer feedback and how to get the most of each of them.
1. Social Media Listening
The great thing about social media is that users are authentic and genuinely express themselves through comments, mentions, and hashtags.

One of the ways you can gain valuable customer feedback is by monitoring mentions of your brand on social media. When you see your company's name being talked about, you can reach out to the people who mentioned it and ask about their experience. This allows you to develop a proactive approach that clients love because they feel that they're genuinely being taken care of.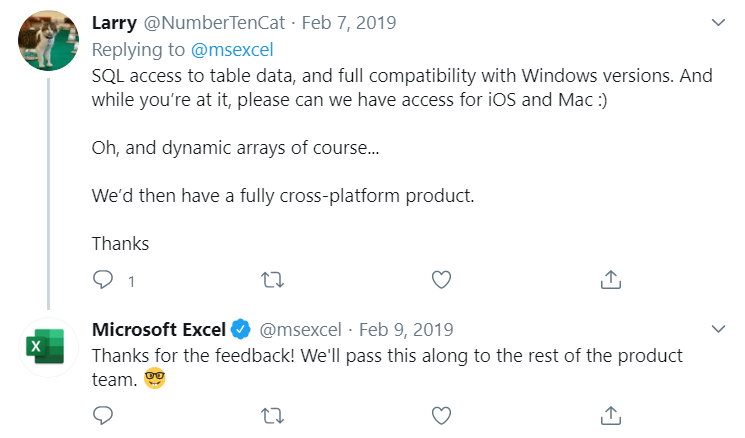 Tip: Another great strategy to collect customer feedback is to monitor your competitors when they are mentioned. You can learn about the things their customers are unhappy with and see if you can provide a better solution. Not only will this help you to stand out from competitors, but also nurture their unsatisfied customers into leads.
Social Media Listening Feedback Tools:

You can automate the process of media listening by using a specialized tool like Mediatoolkit, Hootsuite, or TalkWalker
2. Customer Feedback Surveys and Polls

Not all customers will be open to leaving public and detailed feedback via comments or mentions on social media. Some people prefer to keep their opinions anonymous or private. That's why you should have surveys.

You can conduct short surveys to ask one question or conduct a brief poll, with the purpose of getting responses from your active customers right from your website or app and in your responses (along with the request for direct feedback) or measure NPS, CES or CSAT.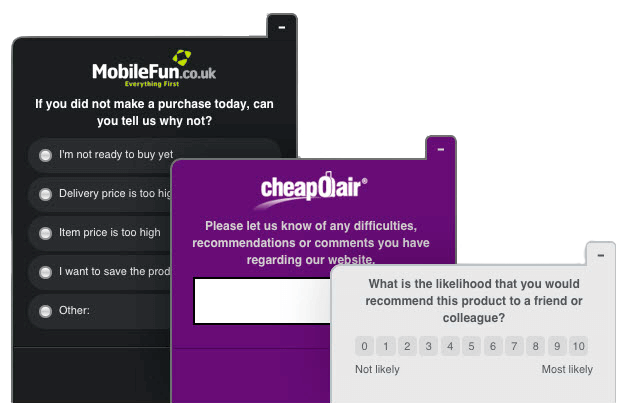 You can also create a longer survey to be sent out via email, social media, or web. Lots of survey tool providers offer templates to base your survey depending on your use case and purposes.

Tip: In order to make up a survey that the customers will actually complete, you should follow this guideline:
ask open-ended questions that lead to your end goal;
ask only the questions that will give you useful insights;
keep it short (up to 5 questions).

Customer Feedback Survey Tools:
3. Customer Feedback Communities
An effective feedback channel and really working way to collect useful insights from customers with minimum efforts is creating a Customer Feedback Community. With the help of such a tool, you can create a specialized feedback forum where customers will share their ideas, feature requests, report bugs and organically create a self-service knowledge base by posting questions. A feedback forum can be a valuable source to get useful insights into what your customers really want. It allows companies to stop playing the guessing game by getting quantitative and qualitative data, and reduce the waste of development hours on the development of the things that will not be actually used.
Compared to using surveys you don't have to waste lots of time and money on collecting, processing, and analyzing the information. With feedback forums or communities you get all the relevant insights right at your fingertips.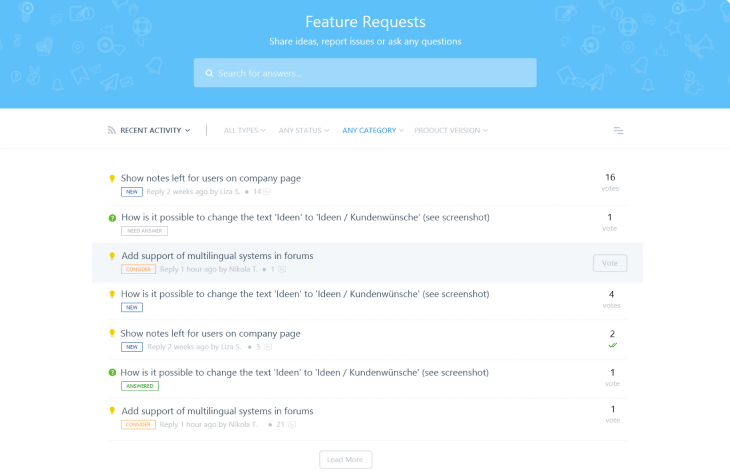 Tip: When applying a customer feedback community portal on your website, make sure it's easy to reach, send out an invitation to visit your ideation portal at certain stages of the customer journey. In most cases, the customers are willing to provide feedback, and you need to create a convenient platform to enhance this process. It's hard enough for customers to reach out and give their honest opinion, so if you will create extra barriers, they won't give you their insights at all.
Customer Community Feedback Tools:

Note: better works for companies with a large user base.
Check out Specialized Community Feedback Software from UseResponse
4. Feedback Widgets
As customers use your product/service, they are constantly spotting things they like, dislike, or would love to change. By having a feedback widget, you make it easier for them to reach out to you and give their honest opinion.
Feedback widgets make it easy for users to tell you when they stumble upon something they don't like and give quick feedback. And if they don't need it, it's not interfering with their experience either.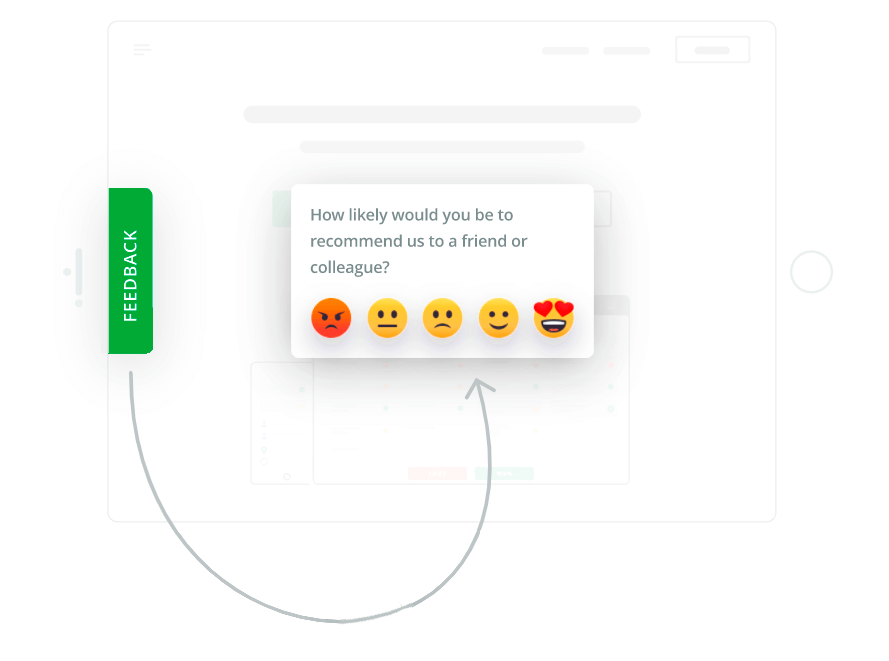 Tip: Keep the feedback form short – a simple title and description box should work. Once you receive feedback, be sure to follow up as soon as possible.
Customer Feedback Widget Tools:
5. Feedback From Support
Quite often customers leave feedback regarding the product to customer support and customer service agents, for most companies it is the main source of feedback. In many cases, there is a gap between Customer Support and Product Development teams, and most of the feedback gets lots among the numerous requests.
When Support Agent receives some feedback, he needs an organized way to keep it. Some companies use spreadsheets for these purposes, and in many cases, it works to some point. But when there are tons of requests and feedback, it is easy to get duplicates and lose the information.
Specialized customer feedback software in combination with customer communications management software helps to ensure that the voice of the customers is actually heard. Such tools allow capturing customer feedback on Agents behalf within a click of a couple of buttons or using a Feedback chrome extension,
Feedback Software In Combination with Support Tools:
6. Feedback via Chatbots
Chatbots have been widely used recently thanks to the improvements in artificial intelligence and machine learning. This new generation of tools transforms the feedback-giving experience differently and in a more interactive manner.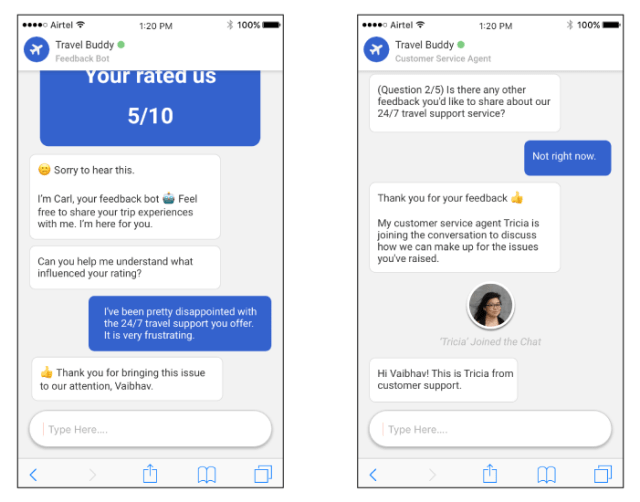 Feedback via Chatbots:
7. Email and Customer Contact Forms
This channel allows customers to contact you directly and privately. It's a more personal approach and it will allow you to engage with the person contacting you. By choosing to go this route, you can develop the conversation and turn customers into loyal fans, simply because you've taken good care of them.

When communicating with your customers, remember to follow these tips:
Make sure your customers get responses quickly. In today's fast-paced world, customers expect to be responded as soon as possible. Therefore, try to reply to them immediately.


Get organized. With so much feedback coming in, it can be hard to keep track of it. Make sure you have a system that can handle this for you.


Always follow up. Always thank customers for completing your surveys. Send out surveys based on certain actions or over periods of time, but try not to be spammy. Ask about customer experience, send satisfaction surveys after they interact with the support, etc.
Tip: When sending emails, use BIMI to attach your company's logo to your authenticated email messages. This way, your recipients will easily recognize and trust the messages you send which will further help in making the communication easier
8. Feedback from Internal Team

Each department is able to provide their own unique perspective on what they think about your products or services, and what can be improved. Of course, the Support department communicates with clients directly and know the customers that are going through better, because every day they come across their pains, problems, and are able to spot common patterns that need to be fixed. However, be sure, that most of your employees have their own suggestions on improving your product. Acquiring feedback from your colleagues is critical to business growth.
Create a survey with some open questions and send it out to the team members with the ability to fill it out anonymously.
Tip: You can use various tools to collect internal feedback. It can be sending out surveys via email, creating and commenting on Trello boards, or creating private communication board using a specialized tool like UseResponse.
9. User Sessions
When you see customers using your products and services, you can understand their interactions throughout your process. The user sessions allow you to do just that.
This is how it works: you put a code snippet from a user session monitoring service on your website or app and when a user enters your site or app, this service records the whole session from a user perspective.

The goal is to analyze how users behave throughout the process and make their experience better. Make sure to take note of the things that caught their attention and what was challenging for them.

This source is ideal for startups launching new products to analyze the customer's behavior, as you get the maximum amount of insights from every user. As a result, they allow to highlight weak parts of your product and avoid future problems.
To run manual tests we recommend you to check out UsaBilityHub and UserTesting for these purposes.
At the same time, you can run automatic testing to identify user heat maps. Whether you're searching for the best place to put a call-to-action on your website or need to get a visual representation of engagement on a page, heat maps can be your best tool. Use them for estimating user attention and creating the content that interacts with your audience and converts them into leads and customers.
10. Customer Interviews
While most data extraction methods still revolve around tech, face-to-face interviews are still proven to be one of the best customer feedback methods. That's because you can analyze verbal and non-verbal cues, have control over the process, and capture emotions and behaviors that a tech channel couldn't.
When conducting these interviews be sure to focus on the following things:

Discover the root problem. When you ask users what your design should look like, that won't get you very far. However, when you understand their underlying motives ("your web page is hard to use"), then you can get a clear picture of what the real problem is and fix it.


When they experienced a problem. Ask users to remember a specific time when they faced this challenge. You can discover a pattern that happens only on certain occasions.


Understanding users habits. When you ask users how they use your products you can discover the problems they were unaware of. For example, they can be going through various steps of a process when in reality they could achieve their desired task within one step. This will allow you to uncover ways to improve your workflow and create a better user experience.
Tools for Customer Interviews:
11. In-App Feedback
Mobile customer interactions are naturally app-based. In-app feedback allows companies to embed key feedback forms in the app in a seamless way. Feedback can be asked after certain action criteria, or at a certain period of time to find the best moment possible when the customer will be loyal to give feedback.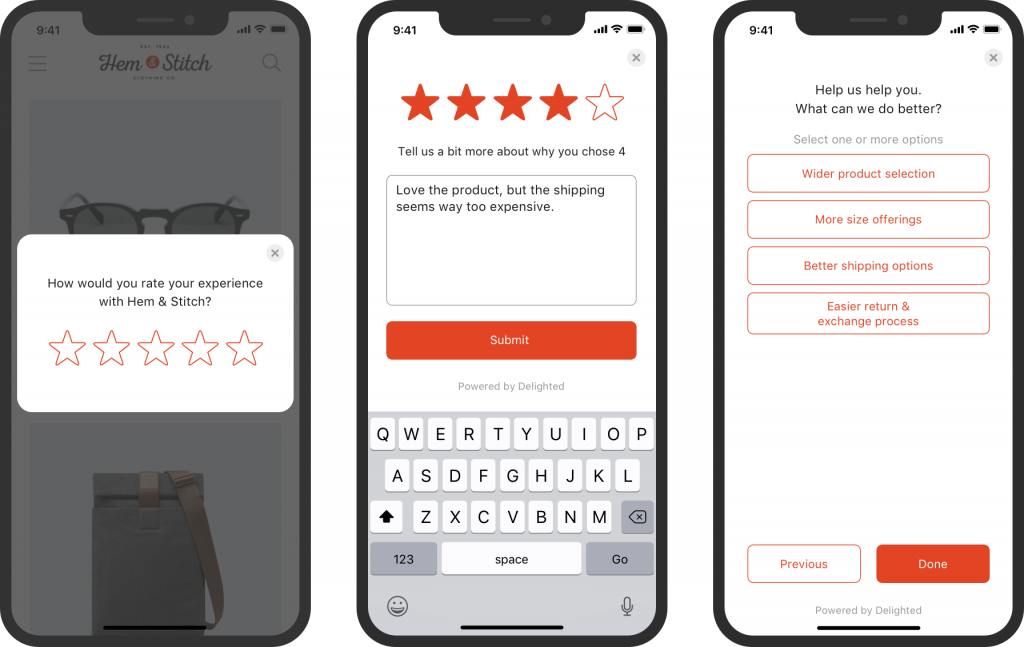 Tips:

Make it noticeable but don't interrupt: Do not hide the feedback button or link in the menu, instead, place it in a noticeable place with clear incentive to provide feedback like "We want your feedback on how to improve our App".
Make it transparent. Let the users see the feedback of others for better inspiration. Show that your feedback workflow is transparent and you keep users updated on the status of their requests and ideas.
Always update. Quite often companies receive feedback, implement it, but do not update the customer, and in the end they think that their voice wasn't heard. That's why it is important to update on the status of the idea, either it was declined or implemented.
In-App Customer Feedback Tools:
12. Customer Advisory Boards
A customer advisory board is a group of key strategic customers that a company invites to offer feedback on the product, new features, and overall strategy of the company. Feedback from the customer advisory board can be received via such channels as meetings, beta tests, slack channels, interviews, or closed feedback communities.
Customer advisory boards as a feedback channel can be useful in several ways, including:
Creating champions for your brand
Validation of new features
Determining product development roadmap
Gathering marketing insights and building strategy
When creating a customer advisory board you should remember that it should serve as a representative sample of your company's overall market, so make sure that you invite to the board as many different market segments representatives as possible.
Conclusion
The best results come when you combine both data and customer feedback. By taking this approach, you get a clear picture of users true behavior as well as the information you need to make decisions on what you should focus on, and the things you need to improve.
Today, there are dozens of tools that provide you with data and analytics to help you understand what your customers value the most in your business and find the areas for improvement. However, no matter how much insights are available at your fingertips, the most important thing is to analyze and use them right.
If the results do not align with your current product development strategy, you need to change this strategy. Yes, it may require lots of resources and efforts, but if you want to be customer-centric, you'll have to do it. Otherwise, all the work on gathering customer feedback is just a waste of time and money.
TRY SPECIALIZED CUSTOMER FEEDBACK SOFTWARE