Non-price aspects of customer experience scoring are constantly gaining higher relevance. The heart of the matter is simple: measuring customer satisfaction allows you to better understand the demand, find out what your customers like most, and find the areas for improvement.
But how can you understand what your customers feel and improve customer experience? The first step you should take is to measure customer satisfaction to find out where you currently stand.
Introduction to Customer Satisfaction
Customer satisfaction is the key to customer loyalty, and a company's success depends on the level it manages to meet customer expectations.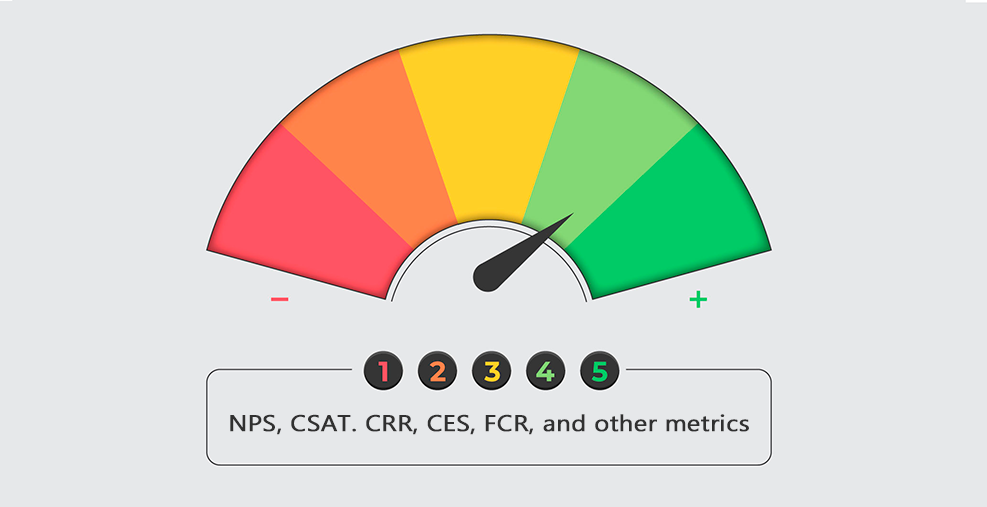 Three most important things that keep the customers with you are the price, quality of the product, and level of the service provided.
Studies show that 96% of customers say that customer service is one of the most important factors in their choice of loyalty to a brand.
You should always remember to control the service level at all stages from pre-sales to technical support, as a poor-quality service at any stage can nullify the work of all other departments.
Customer Satisfaction Essentials
There is no single scheme on how to measure complete customer satisfaction. Most companies tend to use one satisfaction metric at all stages of the customer journey, usually, this is NPS or CSAT.
Special metrics help to translate a conventional concept of "customer satisfaction" into indicant numbers.
Before launching any large-scale campaigns, end with definite causes to start the research. Focus on a limited set of issues you want to address to get clear customer feedback.
Below is the summary of the most used metrics today divided into two groups: customer experience and customer service.
Metrics to Measure Customer Experience
These are subjective and objective metrics that reflect customer satisfaction based on customer interactions with your company and/or product.
NPS (Net Promoter Score)
The question of NPS scoring looks like:
"On a scale of 1 to 10, how likely are you to recommend our product/service to a friend?"
NPS is a customer loyalty index that makes it possible to segment customers into:
dissatisfied detractors (0-6), who may give negative reviews about the company and require proactive outreach;
satisfied passives (7-8), who are not adherents of the company and may switch to the competitor;
loyal promoters (9-10), who will likely recommend products or services to their friends, providing influx of new customers.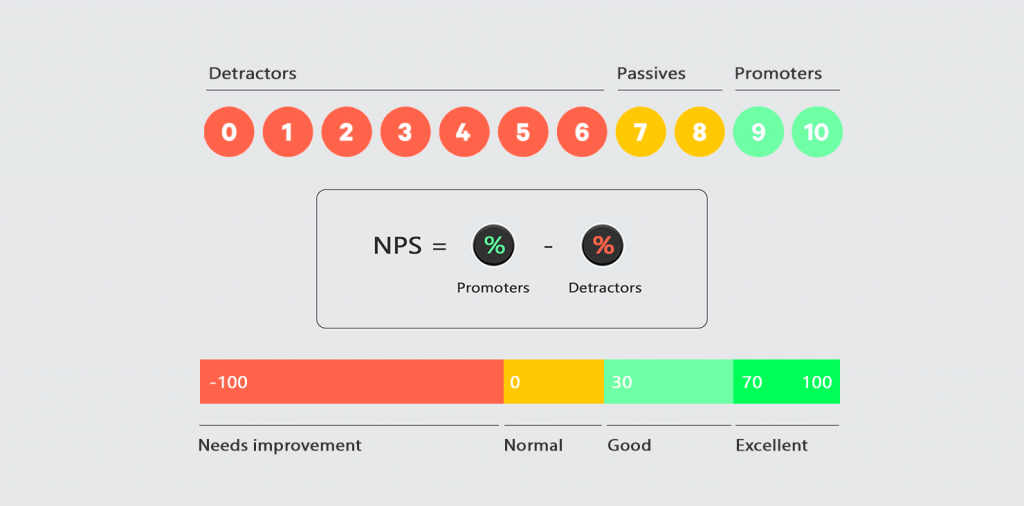 NPS shows the preconditions of the company's growth prospects.
At the same time, it is possible to record the retention of existing customers, fixing the period of their active loyalty.
CSAT (Customer Satisfaction Score)
CSAT or customer satisfaction score reflects emotional expression of customers from a service.
Customer satisfaction score is an average rate of a particular user experience.
CSAT can cover onboarding quality, support response speed, or product return process satisfaction (in short, all features of advanced customer service practices).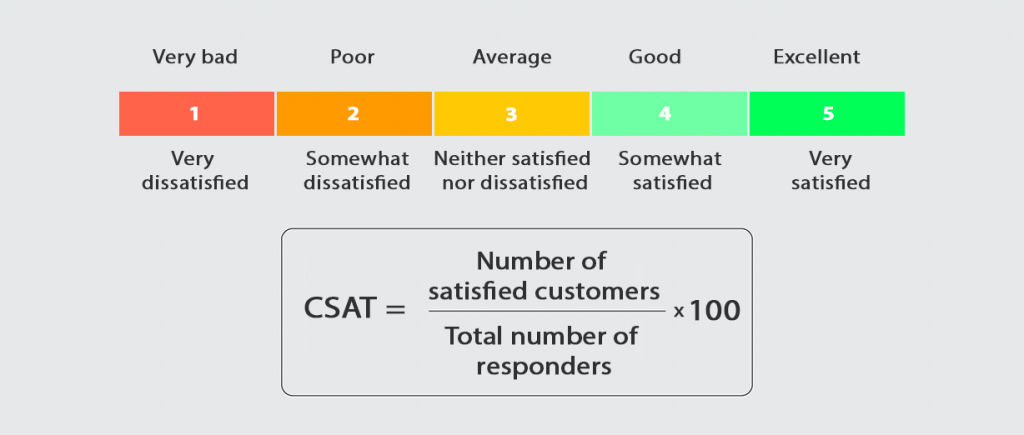 CSAT can be measured by sending clients automated questionnaires asking them to rate their level of satisfaction on a scale of 1 to 5, 1 to 3, or 1 to 10.
The final CSAT score reports the percentage of customers who had excellent to poor experience.
CRR (Customer Retention Rate)
It's no secret that retaining existing customers is way cheaper than engaging new ones. As a rule, it is beneficial in 6 out of 7 cases.
To measure CRR, you need to count the number of your clients at the beginning and end of a particular span and enumerate all the new guests. Then the CRR will show the percentage of customers who remain loyal to your business.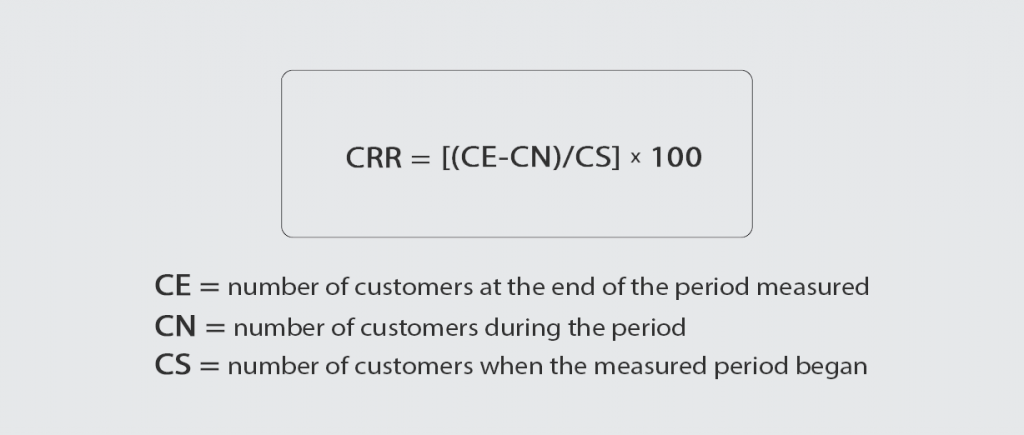 Communication Channels for Direct Feedback
While measuring customer satisfaction you should always choose communication channels convenient to your customers. For example, you can conduct surveys using social media, especially if you have large subscriber base. These can also be emails with bonus offers in exchange for filling out an anonymous questionnaire, pop-ups, or direct forms in live chat.
There are alternative options like chatbots, instant messaging and other channels to get feedback from customers. The most important point here is to remember: ask questions where you can be heard. You should also remember to ask the right questions at each stage of the customer journey.
Most of the metrics used to evaluate customer service can be measured automatically, without asking for direct feedback from the customers. The easiest option to manage multichannel communications and measure customer support effectiveness is to use analytics in customer support platform.
Customer Satisfaction Measuring Process
The first step of a professional customer satisfaction study is to determine the basic parameters to measure at specific stages of customer journey. It can be pre-sales, onboarding, purchase, after-sales support, and others.
When asking customers to assess the service, avoid ambiguous phrases, specific terms, or too deep questions. Treat customers personal time with care, without bothering them to answer the questions you can avoid.
Collect feedback on a consistent basis and set the automatic collection of answers. Calculate each of the parameters and transform it to a percentage in relation to the number of respondents.
There are lots of ways to improve customer satisfaction and let us give you a short summary of the best practices that directly impact the satisfaction rates:
Make pricing clear and compatible
Keep your rating scales consistent and transparent
Offer omnichannel customer support
Provide self-service
Build digital communities
Create customer loyalty programs
Ask for customer feedback on a consistent basis
Conclusion
Today satisfied customers are the key to commercial success and even business survival. They will have no reasons to search for alternatives. Plus, you will definitely get a couple of new customers drawn by reference.
Balance your options in means and time, and channels of communication with customers. Then, choose a convenient method for calculating the level of customer happiness. All that is left to do is to turn your shortcomings into advantages.