In terms of customer support and online communications, gaining customer satisfaction today means including the choice of customer support channels you provide.
Here's the thing: Not everyone is comfortable picking up the phone. Meanwhile, some find social media less professional. Thus, you have to be versatile with your options.
If you are unsure what customer support channels to use these days, we have listed the 12 crowd favorites below:
1. Phone Support
Phone support is still the major source of human connection between businesses and their customers. It allows customers to talk with customer support while preventing miscommunication. In 2020 phone support was still the most popular customer support channel worldwide, as you can see 39% of customers still prefer phone as primary support channel: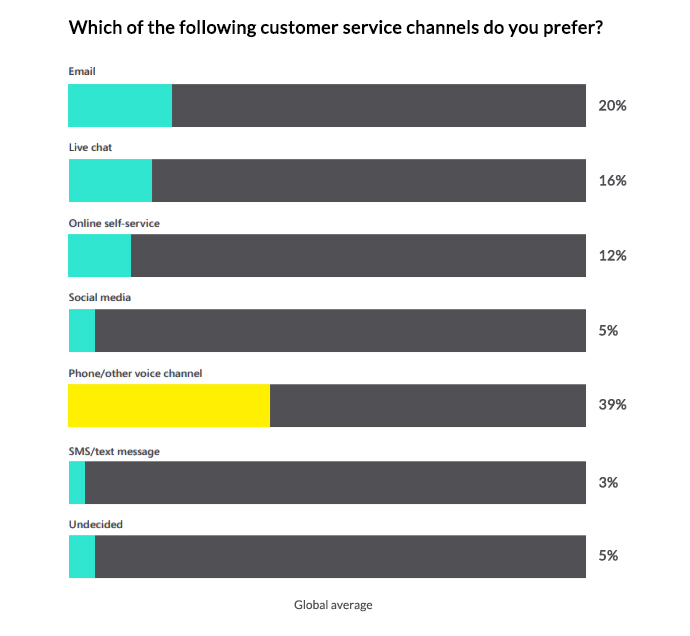 Though the recent research shows that email and other digital channels are gaining more and more popularity in the US, with only 42% of responders preferring phones to solve their issues.
And according to 2016 survey from Northridge phone support channel is mostly used for payment-related concerns, resolving issues, and account changes.
Plus, this kind of client support is ideal for non-techy customers. They may have qualms with technology and would definitely want to talk with a person rather than a bot.
PRO TIP: Consider incorporating callback feature. That way, your customer support agents can call the client back if the phone call got disconnected.
2. Email
While live and phone support make it easier to carry on conversations in real-time back and forth, email is a more delayed means of communication.
Therefore, there is a long period needed before issues can be fully resolved. Still, many companies consider it as something vital in their support offerings. That's because of the universal reach that email can provide.
Moreover, email support can be an ideal option for people who do not have the time to stay on the phone for hours while on hold. Although it does not provide an instant resolution to the issue, it can still get the job done conveniently.
PRO TIP: When providing your customers with email support, take note that most of your customers prefer a more casual tone.

Send auto-replies to notify the customers that you received their request.
3. Online Live Chat
Live chats are extremely popular among Gen Zers. In fact, the 18-34 age group has used this a lot of times, with the main reason they prefer to use this over the phone is the decreased hold times.
Live chats also let agents build strong customer relationships s, moreover, it can serve as a 24/7 contact channel where customers can get assistance anytime and anywhere.
79% of customers say they prefer live chat purely because of the immediacy it offers compared to other channels.

Source: SupportOffice
Live chat can also provide you with insights into your customers' journey. And depending on the platform you use, you can also take the live conversations into video or voice calls.
4. Support Ticketing Systems
The platform will receive a request from the user to a shared inbox in a form of tickets. While the requests are usually being sent through email or online forms.
Similarly, you can integrate ticketing system with Live Chat, Knowledge Base, and Online Communities as well. After the submission, the request will be turned into a ticket, which can be easily tracked.
PRO TIP: Use Omnichannel Ticketing System to manage all your customer communications in a single place.
5. Social Media
Almost all brands are now can be discovered on social media. Thus, making it an excellent platform to engage with new or existing customers early on in the customer journey.
Apart from being an effective contact channel, you can also use it as a marketing tool.
Many companies and brands use social media to their advantage. On Twitter, for example, many companies make sure that they communicate using their brand "voice." This helps engage with customer conversations to improve the way users perceive their company.
Depending on your business and current customer base, it can also be helpful if you create accounts meant for support inquiries. This prevents social media admins or marketers who lack technical support skills or are not well-equipped to respond to questions.
6. Messaging Apps
The most popular messaging apps are Facebook Messenger and WhatsApp. As of January 2021, two billion users were using WhatsApp on a monthly basis. Since the wide usage of smartphones and the subsequent explosion of mobile apps, free chat, and social messaging apps have proven to have gained such high popularity.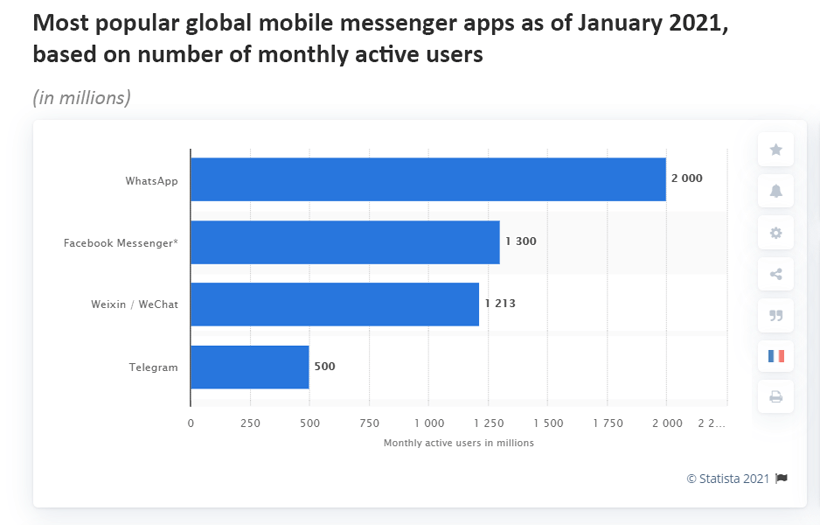 They can also be great platforms in providing insight on how your messages will be delivered and read.
Furthermore, messaging apps can be excellent platforms when you want to talk about offers or promotions.
This is especially true about WhatsApp Business. With over 1.2 billion active users, messages on these channels are regularly checked over emails.
7. Chatbots
Chatbots provide a great alternative to human-powered live chats and allow you to deal with multiple inquiries, 24/7, and offer customers an immediate response by improving customer self-service.
But despite the advancement in technology, chatbots are not still up to par with fostering human connections. Sure, they can respond to basic FAQs and use cases, their capabilities are still limited. So much so that some clients would recognize that they are talking to a robot.
That said, one way to maximize your chatbot feature is to use them as a contact channel together with a human-powered live chat.
You can let a chatbot deal with basic inquiries and then hand it over to a customer service agent if the problems are complex.
8. Video Calls
The primary use of video calls is to provide face-to-face customer support without meeting in person. This is common with international businesses that have an offshore team.
It is not all the time a client can travel to have an issue resolved. And often, email exchange can fall through the cracks. Video calls can help you personalize the support to demonstrate how things are done through screen sharing.
9. In-Person Meetings
Of course, nothing can beat speaking to your customers in person. This makes it easier for your customers to feel comfortable and relaxed to work with your company. You get to establish your reputation and authority.
However, note that in-person support may not always be the most efficient method for handling customer requests and is not always possible considering the COVID restrictions. Sometimes, it can be a tad inconvenient on the part of the customer. Therefore, you must still recommend other means of customer contact channels that are more convenient to them.
10. Knowledge Base Self-Service
Sometimes, your customers want to seek help on their own to find a quick solution.
That's why many websites have a FAQ page wherein their customers can access the most common questions they have.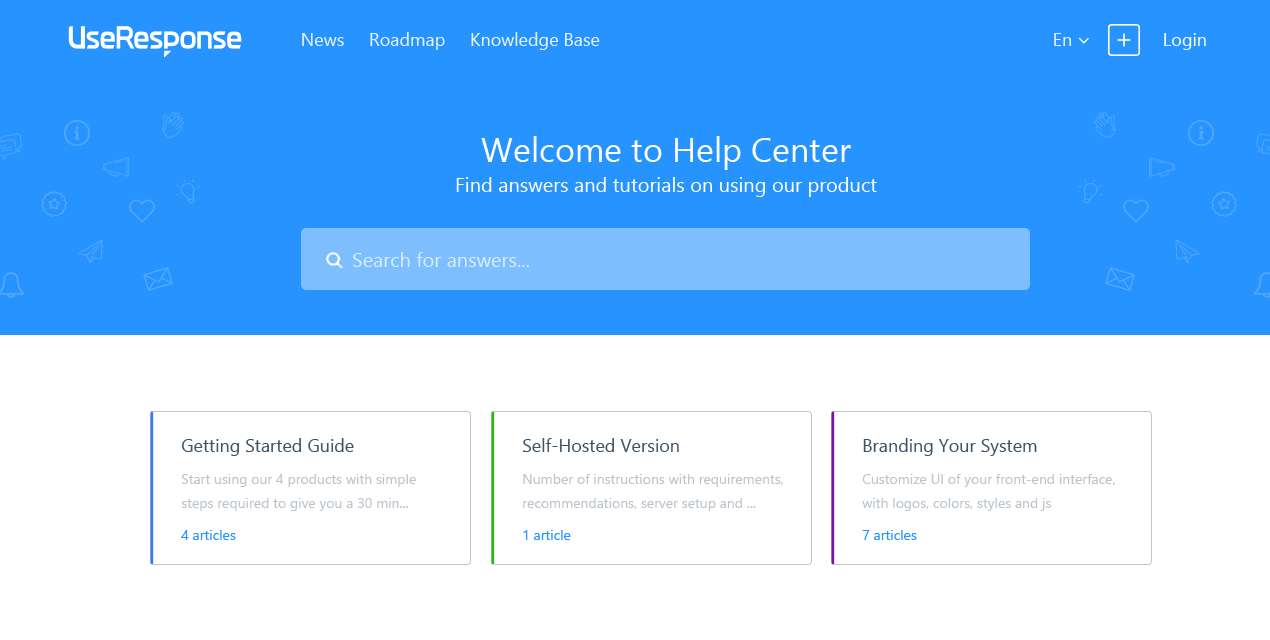 Similarly, you can satisfy your customers by making your knowledge base interactive. It can be a troubleshooting demo, or you can prompt a client to send an email or have a live chat with customer support.
11. Online Forums & Communities
An online forum or community is another source of customer self-service where you create FAQ wiki powered by your customers, enable peer-to-peer collaboration and collect feature requests.
You can build a good community approach by creating a space where your customers can ask, share their problems and concerns, as well as leave you feature requests and ideas on the further development of your product.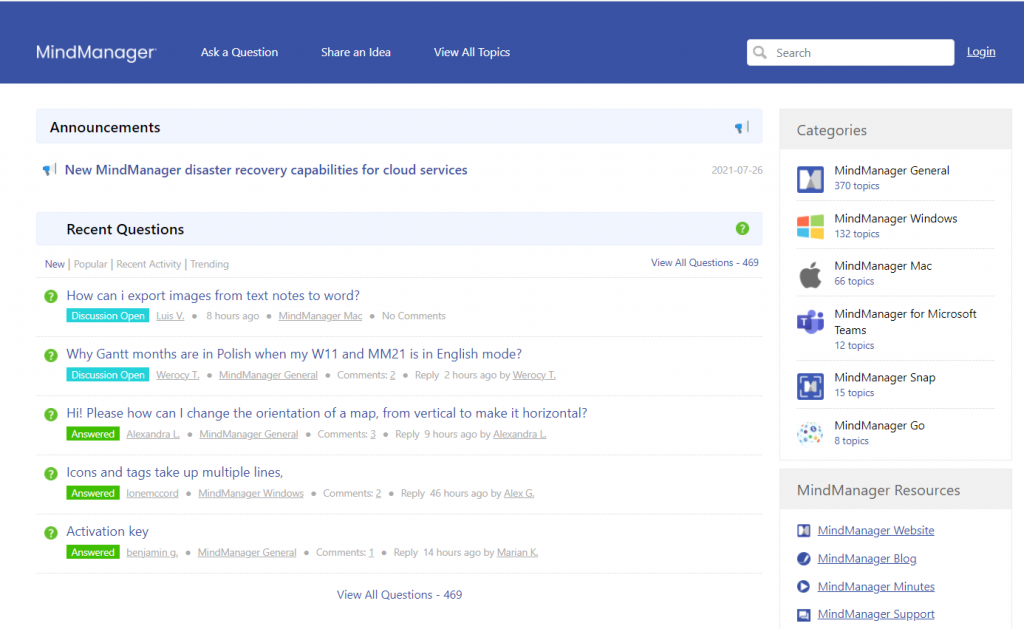 12. On-Page Support Widget
Similarly, you can turn your site into a support channel via on-page support widgets.
When browsing through your site, customers can ask you a question and then submit this request via email.
Some widgets allow you to incorporate knowledge base articles directly. That way, customers can have access to answers right away.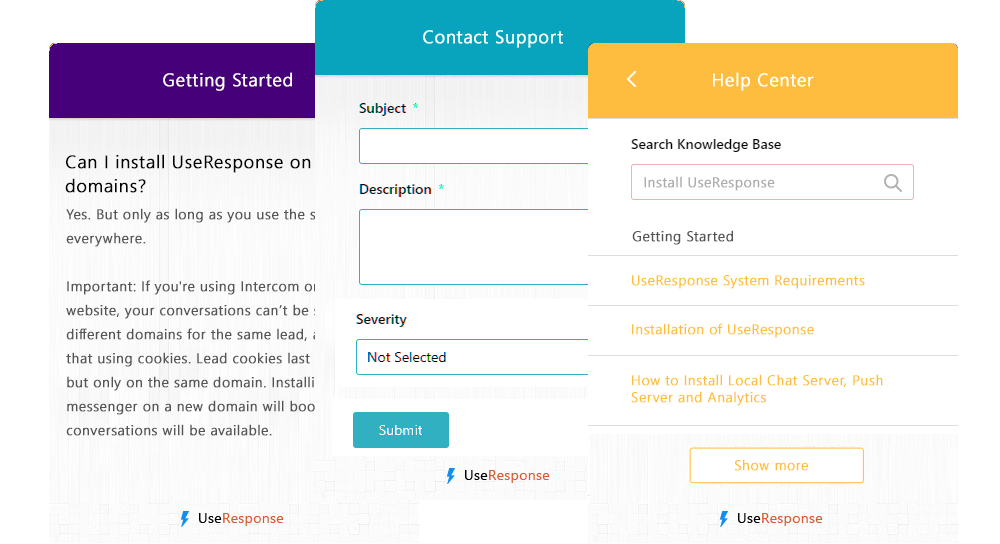 Conclusion
Customer support can say so much about your business. Offering omnichannel customer support gives you the chance to showcase your customers that you care and offer them a choice.