Bill Gates once said, "We all need people who will give us feedback. That's how we improve". If one of the world's most prominent people in business needs feedback, then it's clear your company cannot ignore its impact.
Feedback is information provided directly from the customers concerning your business, services, or products. Microsoft's 2017 State of Global Customer Service Report found that 77% of consumers are more attracted to brands that look for customer feedback.
77% of consumers are more attracted to brands that look for customer feedback
Actually all the feedback can be divided into two major groups:
Feedback you reach out for (like surveys, NPS, etc.)
And feedback the customers provide you without asking (like bug reports, questions, etc.)
Sometimes customers can provide you feedback without asking (like reviews, app ratings, etc.), and sometimes you have to reach out to your customers to gather more feedback. This mostly depends of the volume of your customer base and how active your customers are.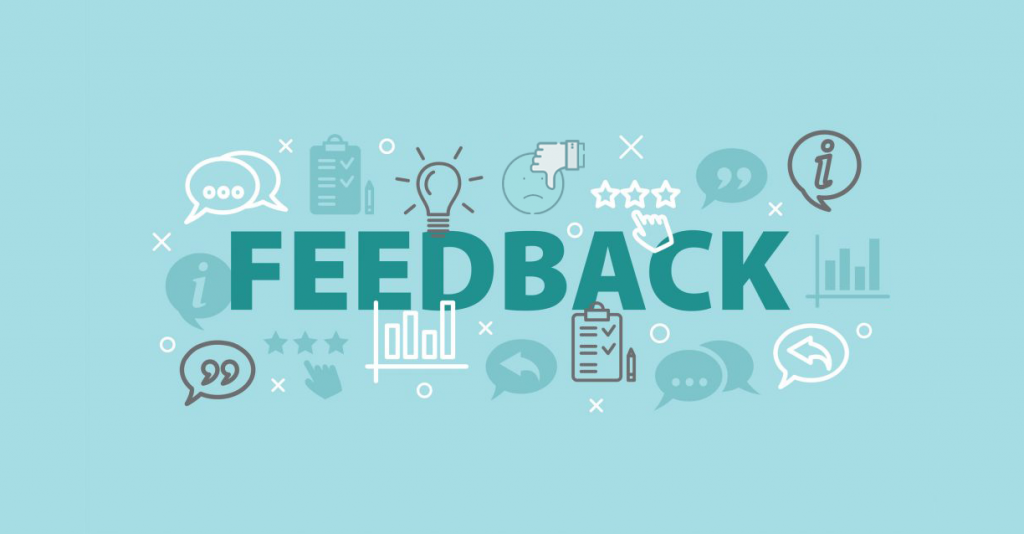 Below is a list of different types of customer feedback to improve your business growth.
1. Feedback on Review Sites
Potential customers on average read up to ten reviews before making a purchasing decision, so feedback on review sites is an important customer feedback source. This type of feedback gives you actionable insights into your customer satisfaction levels.
Public review sites such as Better Business Bureau, Google Reviews, and Trustpilot are excellent sources of this unsolicited feedback. You can also take advantage of positive feedback from online reviews and place them as testimonials on your website. These increase the credibility and trustworthiness of your products and services.
Sometimes negative customer reviews are unavoidable. The good news is that you can also use negative customer reviews to your advantage. Harvard Business Review found that companies that responded to negative feedback had higher ratings than those that ignored them.
You can use negative customer feedback to pinpoint the areas in your products and services you need to improve as well.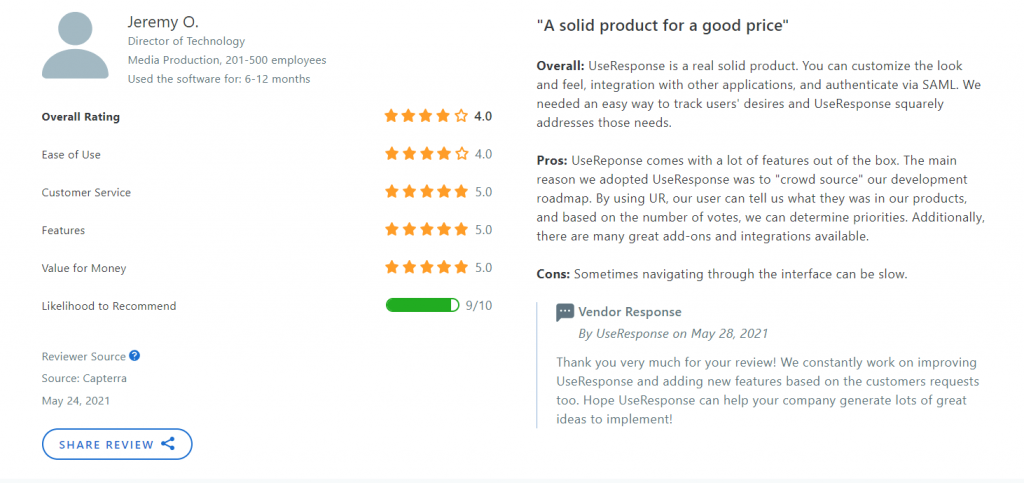 This response to a negative review is what you should not do. There are more professional ways to handle both positive and negative customer feedback. Just let the customer know you will look into the issue and fix the problem as soon as possible. Go the extra mile with a follow-up to tell them you have resolved the issue. That's especially important for subscription products or services that clients will use for a long time.
2. Surveys
Surveys are one of the best types of customer feedback to collect data about your business. They can help you determine how consumers perceive your brand in mass. When you know how most of the customers perceive your brand, you can make the necessary adjustments to improve that perception.
Make sure to choose the correct type of survey to collect the most relevant customer feedback. Customer Satisfaction Surveys (CSAT) ask questions such as, "How satisfied were you with the XYZ you received?" That helps you gauge your customers' feelings about your products and their satisfaction levels. CSAT is often used to evaluate customer service performance or a recent purchase.
You can emulate HubSpot in how it asks this question. The brand tracks CSAT by posing open-ended questions combined with rating scale questions.
You can also ask how likely users are to recommend your company. That's a customer survey question related to another popular survey type – Net Promoter Score survey – but more on that below.
Customer Effort Scores (CES), meanwhile, measure a product's ease of use. This type of user feedback survey asks for responses to statements such as "Our XYZ was easy to use. 1 – I strongly disagree.10 – I strongly agree".
To make CES surveys valuable to your business, conduct them regularly to keep track of changing customer expectations. There is no set industry standard, so you should compare your CES scores over a specific period. If you experience an increase, then your efforts to improve usability are worth the effort.
After gathering your answers, analyze the survey data as a way to direct future product development. Use this feedback to innovate your products and also ensure product-market fit.
Instead of speculating, this information can help you align your business practices with customer expectations.
3. Net Promoter Score
Net Promoter Score (NPS) is another type of insight you can glean from surveys. It's sometimes referred to as the gold standard of CX metrics. That's why we discuss this in this separate subsection.
NPS is a one-question survey used for measuring customer satisfaction. It's based on the single question, "On a scale of 0 – 10, how likely are you to recommend our products/services/brand to others?" As with the other kinds of survey questions, you can determine how customers perceive your brand with NPS and use that feedback to improve your products and services.
Based on the results of NPS, respondents are divided into three categories according to their scores. Those who give you a score of 0 – 6 are detractors. Passives will score you between 7 – 8 and promoters, 9 – 10.
Take the percentage of promoters minus the percentage of detractors. You will get a figure between -100 and 100. An NPS score above 0 is good, but the ideal score varies across different industries. Look at industry standards as shown below to determine what makes a 'good' score in your field. How do you measure up?
Also, look at the average NPS scores of the market leaders, and use them as a benchmark to check if your score is higher or lower.
If your score is low, implement aggressive, company-wide strategies to improve CX. For a business with a mid-range score, analyze NPS leaders' scores to figure out which specific characteristics contribute to their high score. Set internal benchmark goals to emulate their strategies and apply them to your internal processes.
These include aligning NPS targets with employee compensation and key performance indicators. Implement this in sales and marketing teams with compensation plans tied to performance.
4. In-App Ratings
For product offerings that feature an app, in-app ratings or reviews are an integral part of the brand. These pop-ups encourage real customers to leave a rating directly on their screens. They're powerful tools for gathering valuable feedback you can use to boost engagement and customer retention.
Some advantages of using in-app ratings include:
Provides convenience to the user by giving them the freedom to provide feedback instantly.
Helps businesses keep track of the quality of products and services.
Allows for immediate and accurate bug report generation.
Discourages dissatisfied customers from leaving reviews on public platforms.
Use Case: Uber uses in-app ratings as a quick way to get feedback about user experience (UX) and the quality of its services. They also encourage users to leave a compliment that will provide further information about their satisfaction level.
How do you apply this to your own business? If you notice a lot of low ratings, follow up with the client and ask what they dislike about your app. Work to fix these areas, and you are likely to avoid future negative reviews.
These ratings also tell you about UX errors in your system, so make sure to react early to provide a seamless experience.
5. Complaints and Bug Reports
Bug reports and complaints are types of customer feedback that give you customer insight into how they interact with your products. The problem with bugs and customer complaints is that they result in churn and negatively affect customer interaction. This is especially true for an online business with a digital product. So, you need to address those complaints and bug reports to ensure your products are working as they should.
So what do you do about this feedback? Here are some quick fix steps:
Confirm that the problem exists: This means finding out what problem the customer faced by checking what the complaint entails.
Replicate the issue: If possible, reproduce the issue or the reason for the complaint using the steps shown below.
Identify the seriousness of the issue: Look at the severity of the problem. Are there some features you can quickly fix?
Quantify the impact of the bug: You will need to identify who the bug is affecting – is it just one customer or all of them?
Once these complaints are addressed, make sure to update the customer. That's because you show customers you're interested in providing a good experience.
6. Customer Preference Feedback
Customer preference feedback gives businesses a look at customer likings and tastes. By collecting customer preference feedback, you can make informed decisions about company strategies such as product development and dealing with sales objections.
One way to gather this type of feedback is by conducting polls on social media that give real-time feedback. If you are launching a new product, post images of different product designs and ask your followers which one they prefer. You can also ask multiple choice questions to find out what specific features they would like included in the design.
You can also analyze customer preferencce via blog posts. By analyzing comments on your blogs, you can receive both negative and positive customer preference feedback.
7. Feedback and Ideation Communities
Creating a customer feedback portal is also an excellent strategy. The good thing about this is that you won't have all your customer preference feedback scattered across different platforms and will hear your customers without them interacting with you directly. Your product development teams can easily access all the feedback and create customer-centric products.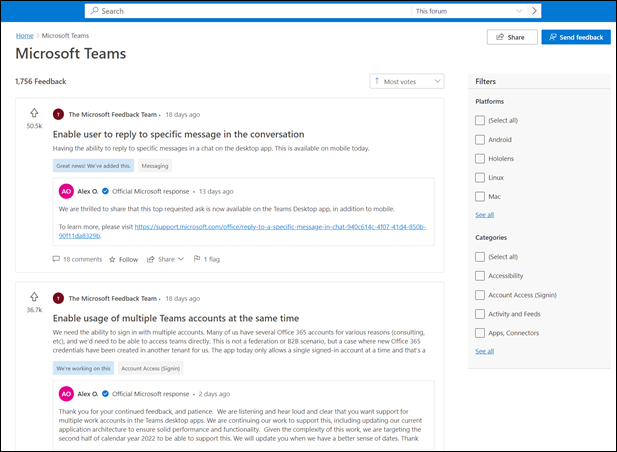 Some companies organize their own feedback communities, while others interact with their customers on various platforms, such as forums, or social media like Facebook groups or Reddit threads, etc.
8. Feature Requests
Feature requests are ideas coming from the customers on how you can improve your product or services. Usually new feature requests appear from the customer inability to do something.
Not all feature requests are worth implementing but all are worth considering, and it's important to keep track of customer feature requests. In ideal world the feature requests should all be tracked and transferred to the development team. Some companies use Trello to organize their feature requests, others keep track of them in Google sheets, etc. The most effective way to track and organize feature requets in mass is creating customer feedback communities as mentioned above.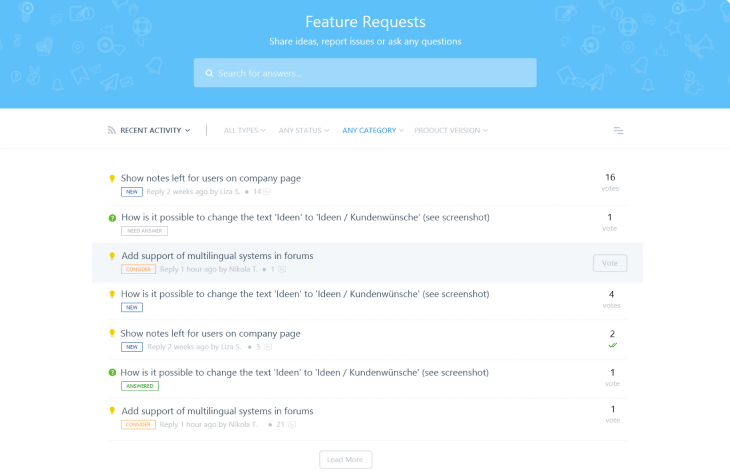 Feedback communities help to make sure that no feedback is lost, all the feedback is visible to the development team and there's a transparent product development and customer feedback loop.
9. Questions
At different stages of customer journey, customers may have questions. And the more complex is your product, the more qusetions you receive. Noo matter how detailed your documentation and FAQs section is, people will still have questions. And this is also considered to be feedback as it helps you understand what parts of product or customer journey are complicated and need to be explained or simplified. So, getting feedback in a form of questions highlighs the areas where you could improve the UI and make things more clear.
10. Customer Churn Feedback
Customer churn feedback is really valuable and you should reach out to customers to find out the reasons they leave. Quite often you will hear unpleasant things, but the feedback from unsatisfied experience can can be a valuable fuel for growth.
You can automatically reach out to the customer by sending out cancellation survey when they cancel their subscription, or personally ask for feedback when customer turns to the support to cancel their purchase or subscription.
There can be various reasons why people leave – from high pricing to lack of certain functionality, etc. Below are 6 types of churn feedback and questions you can ask: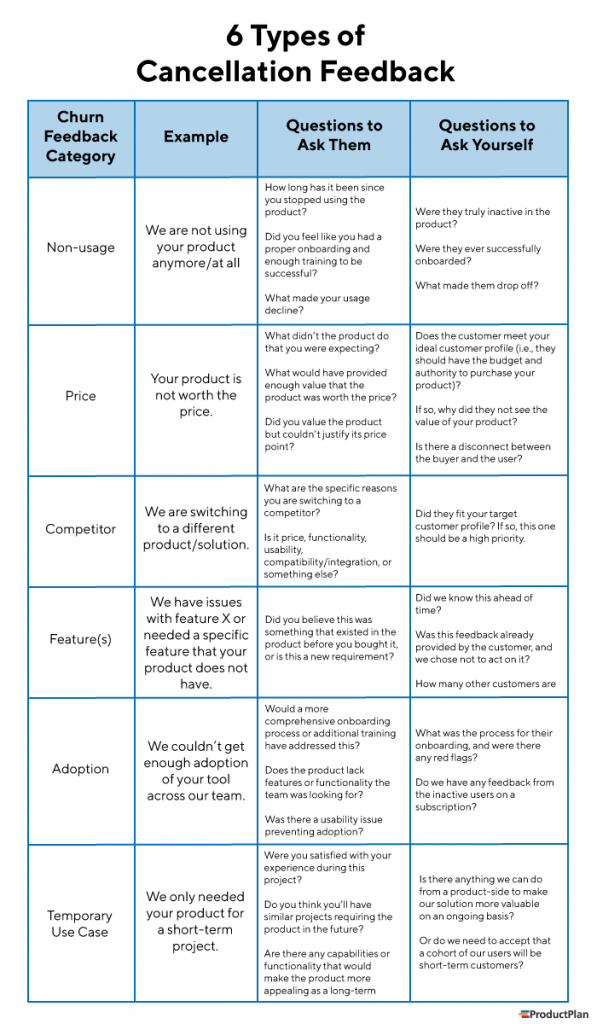 In Closing
Customer feedback is an aspect of your business you cannot ignore. However, knowing how to translate it into actionable business strategies is crucial.
Look for different types of customer feedback, such as comments on reputable external review sites you can use to improve your product or service. By using surveys — including NPS — you can measure your rankings against market leaders, etc. This will show you the areas of improvement and help you implement the strategies to increase your scores.
In-app stores offer a way to get instant feedback on UX as well as a way to detect bugs and promptly fix them. By knowing the likes of your clients, customer support teams can respond accordingly. This can also guide management decisions.
Leverage these types of customer feedback, and your business will reap the benefits in many ways.