As a rule, canned responses can be used to answer frequently asked questions that can be related to sales, customer support, billing, or technical issues. These replies can be used for chats, emails, and sending automatic notifications, or other messages to improve the support team's performance and productivity.
With canned responses, agents can make the conversations effective and provide fast and accurate replies. Agents can use canned responses as a basis to edit and personalize them.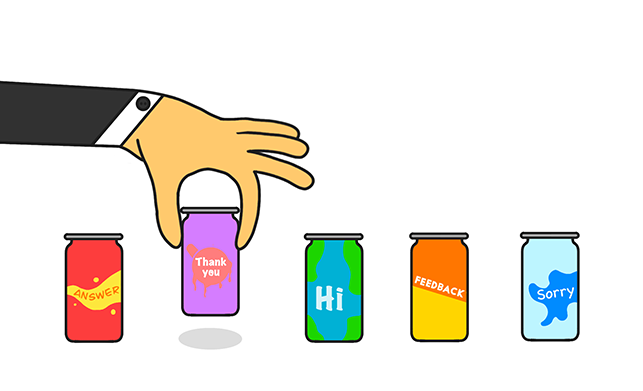 What are Canned Responses?
Canned responses in customer service are predefined (template) answers to the most common questions that can be quickly accessed and used by support agents. Canned responses can also be referred as pre-defined responses, quick replies, or saved messages, etc.
Please don't mix up canned responses and auto-replies. While auto-replies are sent automatically with the help of triggers and macros, the canned responses are used by support agents as predefined templates for their answers that can be personalized and sent manually. In the meanwhile, canned responses can also be used in automation.
Why Use Canned Responses for Customer Support?
Actually, canned responses are a win-win for both customers and the support agents. When setting up your support system think of typical situations when you can benefit from using canned responses and back up your support agents. These can be answers to pre-sales questions, pricing information, comparison to the competitors, etc.
Here are the key benefits of canned responses both for customers and support agents:
Improved request resolution time. Canned responses can be quickly accessed within a couple of clicks, which requires less time rather than typing. This helps to improve resolution time and first response time while maintaining the quality.
Improved support efficiency. Support agents can save time to handle more complex issues. Quick replies enhance the productivity of support agents and make their replies sound professional.
Increased customer engagement. Well-written canned responses help in engaging customers better and deliver pleasant customer experience.
Higher customer satisfaction. Canned replies speed up response and resolution time. This accordingly results in increased customer satisfaction scores (CSAT).
Canned Help Desk Responses Templates & Examples
You can prepare different versions of canned responses adapted to customers' different profiles (e.g. new customers, enterprise customers, leads, etc.), or prepare canned replies depending on the customer journey.
To create optimal canned responses please follow the principles below:
personalize your canned responses
show empathy in your replies
organize and categorize responses for easier access
regularly update the canned responses
speak the customer language and try to avoid complicated technical terminology
When creating canned responses for your customer service you should leverage the right software to make them effective. Using UseResponse Help Desk you can create canned responses, categorize them, use canned responses for multilingual support, and have quick access to them.
To empower your support agents we've collected 10 most typical canned responses templates that can be used in customer support systems when managing customer support requests and inquiries (emails and tickets).
1. Request is received during working days/hours
If a customer submits a request, they should get a notification that you received it and your team is working on it or will take it into work on business days. If possible, try to personalize the response rather than sending "Thank you, we received your message". Try to give an approximate ETA for the request resolution and suggest checking for possible solutions using your self-service options.
"Hello [CUSTOMER NAME],

Thank you for sending your request.

Your ticket tracking number is [TICKET NUMBER]. Our team is working on resolving your issue and you will receive an email notification as soon as it gets resolved. We appreciate your patience.

If you have any further questions or concerns, please let us know.

Best,

[YOUR NAME]"
2. Request is received during days off
If your company doesn't provide support 24/7 and the request was sent our of the working hours, you can send a canned response as an automatic reply:
"Hello [CUSTOMER NAME],

Thank you for sending your request.

Your ticket tracking number is [TICKET NUMBER]. Our team is currently away and will start working on resolving your issue shortly.

Please note our business hours:

[YOUR BUSINESS HOURS]

You will receive an email notification as soon as your request is taken into work and gets resolved. We appreciate your patience.

Meanwhile, we recommend you check our Knowledge Base [LINK TO KNOWLEDGE BASE AND FAQ] and our Community forum [LINK TO COMMUNITY FORUM] to find a possible solution.

If you have any further questions or concerns, please let us know.

Best,

[YOUR NAME]"
3. Request is taken into work
As soon as your team starts processing the request, and the status of the ticket changes to let's say "In Progress", you can automatically notify the customer and send the following notification or use these templates for further personalization:
"Hello [CUSTOMER NAME],

Thank you for reporting the issue. It has been forwarded to the concerned team for a fix. All the details are clear and we confirm that the problem exists. It should be resolved during 1-2 working days.

Best,

[YOUR NAME]"
or
"Hello [CUSTOMER NAME],

We have examined your request and have identified the problem. Our team has started working on it.

By a rough estimate, it should be fixed by [ETA].

We will keep you updated.

Best,

[YOUR NAME]"
4. The request requires more time for resolution
Sometimes support issues can take longer than expected. As the customer will be expecting the issues to be resolved by the ETA you provided earlier, you should proactively notify if there's any delay.
Hey [CUSTOMER NAME],

I wanted to update you on the status of your ticket.

Your [ISSUE] is in progress and is being worked on by our development team, however, we need some more time to fix it. We're prioritizing your request, and I will make sure this issue is resolved asap. We will notify you as soon as it gets resolved.

Thanks for your patience.

Take care,

[YOUR NAME]
5. Asking for more information
If you need to request more information to investigate the issue and get it resolved, your email needs to have clear, pointed instructions to request the information you need. Use this canned response and manually input the requested information should it be the product version, customer's browser, and OS, order number, a screenshot, or other.
Dear [CUSTOMER NAME],

Thank you for reaching out!

I will help you with [ISSUE], but I need to ask you for your [INFO NEEDED], so that we can reproduce the issue.

Thank you in advance for your fast reply,

[YOUR NAME]
Another example
Hello [CUSTOMER NAME],

Thank you for submitting your query ([REQUEST]). Could you please send us [INFOR NEEDED] for us to proceed with your request?

You can update the information by replying to this email. Once we get these details, we will be able to resolve your query soon.

Thanks in advance,

[YOUR NAME]
6. Replying to feature request
Sometimes, what customers reports as an issue is actually a feature request. Your support team should have a certain flow of tracking feature requests and passing them to the product development team. In the canned response try to outline the process your support team follows when they receive a feature request.
Not every customer idea can be implemented, and there can be different scenarios:
The feature already exists
The feature request is in development
The feature request is already submitted and is collecting votes
You have to decline feature request (doesn't meet your strategy, don't have enough resources, etc.)
You'd better have a canned response for each of the case if you received high volume of feature requests on a regular basis. Here is an example of canned response to a new feature request submitted by a customer.
Hello [CUSTOMER NAME],

Thank you for submitting your idea. I've added your request to our Feedback Community board [INCLUDE LINK], so that other customers can also evaluate and vote for it. Later, our product development team will review it and we'll notify you if we take it into development.

We do our best to stick to the customer-centric product development, and if you have other ideas, please feel free to submit them here [LINK TO FORM].

We appreciate your recommendation,

[YOUR NAME]
Sometimes, there are situations when you have to decline the feature request. We'd recommend you checking the article on how to say no to feature requests.
7. Writing an apology
For any mistake on your end like missed email, a delay, or technical issues, apologize and be transparent about your role in the situation. Take your time to personalize the canned response template for it to sound more human.
Hello [CUSTOMER NAME],

We regret to inform you that [ISSUE] is a problem on our side. We understand the inconvenience it has caused you and we are doing everything to solve this issue ASAP.

Again, we are incredibly sorry for the inconvenience this has caused and will update you as soon as we have a resolution. Please feel welcome to reach out to us with any questions you may have about this information as we would be more than happy to help.

Talk to you soon,

[YOUR NAME]
8. Providing information in Knowledge Base + offering self-service
Quite often new customers may reach out to you regarding the issues that can easily be resolved on their own. In case you have written detailed instructions or created video tutorials you might want to refer to them. Usually, these requests are not complex and can be easily resolved. But that does not mean you can just send a couple of links and close the ticket. Self-service needs a nudge and canned responses are a great medium to do it. Explain the situation and smoothly introduce your customers to your self-service platform. Invite the customer to contact you in case they face any issues so that they know you are always here to help.
Instead of just sending a link to the knowledge base, go an extra mile and include the instructions and screenshots in the email itself.
Hi [CUSTOMER NAME],

We have changed [REQUEST] as you requested.

If you need to change any other settings, you can go to the Admin area and follow the detailed information you can find in the article [LINK TO KNOWLEDGE BASE ARTICLE].

Let me know if there's anything else I can help with.

Best,

[YOUR NAME]
9. Closing the ticket
Closing the ticket is a formal indication that the issue is resolved and you are closing all the communications concerning it.
A closing canned response should have a short summary of the request, a thanks note, and a question if the customer needs more assistance. You can also add a note that the customer can reopen the ticket if they need more help. It is also a good time to ask for feedback on the performance of the support agent or the team related to solving this issue.
Hello [CUSTOMER NAME],

Your issue [SHORT DESCRIPTION] is resolved. We are closing the ticket now. If you face the [Issue Type] again, you can go to [settings/support center/admin account] and [How to Solve] it or contact us.

If you need any further assistance, feel free to reply to this email. We will be happy to help.

We'd love to hear what you think about the quality of our customer service. Can you please take a moment to reply to this simple survey? Your feedback will help us assist you better!

[CSAT OTHER SURVEY QUESTIONS]

Thanks,

[YOUR NAME]
10. Asking for feedback
Support tickets can be a great place to ask for overall customer feedback on your product and ask customers to leave a review. The communication is still fresh and the chance that you receive a reply is pretty high.
Hello [CUSTOMER NAME],

You've been using our product for quite a while already! We would be happy to hear some feedback about your experience. Could you please take some time to tell us what you like about our product, what you think can be improved. Your feedback helps us imporve and assist you better.

We would really appreciate if you could leave us a review on [Google, TrustRaduis, G2Crowd, Capterra, etc.]?

Thanks in advance,

[YOUR NAME]
You also should prepare canned responses to both positive and negative feedback.
"Hello [CUSTOMER NAME],

Thank you so much for your valuable feedback, we really appreciate it. We hope you continue using [YOUR PRODUCT NAME] and give us a chance to deliver you a great experience.

Best,

[YOUR COMPANY TEAM]"
In case negative feedback is received:
"Hello [CUSTOMER NAME],

Thank you for sharing your feedback. We are very sorry about your bad experience. We regret that we missed meeting your expectations. [PERSONOLIZED CASE EXPLANATION].

Best,

[YOUR COMPANY TEAM]"
How to create and use canned responses in UseResponse
Before creating canned responses in your UseResponse instance, think of categories you can create for better visual presentation and easier access.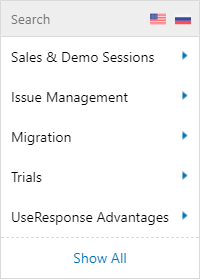 After the categories for canned responses are created, you can use two ways to add canned responses:
Convert canned response from any chat message or any reply by clicking on the arrow in reply
Add canned responses in Menu » Canned Responses.
Canned responses can be available to certain agents, teams or all support agents. To insert a canned response in a specific place of the comment, just put mouse focus, type # sign and select the answer. It can be placed in any location of added comment, so a canned response could be only a part of your whole answer to the customer.

Bottom line
After you created your canned responses, make sure to periodically review them and monitor how customers react to them. Constantly monitor your customers' requests. You might need to add more responses for new products and features or to cover the questions your customers constantly ask. In case your support canned responses are effective, both your team and the customer will get benefits.